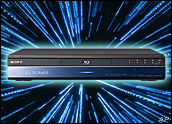 The high-def DVD format wars took a turn Monday when Sony, backer of Blu-ray DVD technology, announced it has cut the price of a Blu-ray disc (BD) player by US$100. The company's latest model, the second-generation BDP-S300 available next week, will now sell for $499.
"The BD format gained great momentum in the past several months, and we're going to capitalize on that with the new model," said Chris Fawcett, vice president of marketing for Sony Electronics' home product division. "The player gives a broader consumer segment the opportunity to experience the exceptional quality of Blu-ray disc format at a competitive price."
The surprise price drop comes some nine months after Sony launched another player, the BDP-S1, with a list price of $999. That player is now available for around $799. In 2003, Sony's first Blu-ray player and recorder, the BDZ-S77, was priced at a whopping $3,815.
The Format Wars
Sony, along with a string of other high tech manufacturers including LG, Panasonic, Pioneer and Samsung have placed their bets on Sony's Blu-ray format. In the other corner is Toshiba's competing format, HD DVD, behind which Fuji Intel, HP, Microsoft, NEC, Paramount RCA, Sanyo have aligned.
Like the VHS vs. Sony's Betamax format wars during the early 1980s, which Sony lost, the quest for dominance as the preeminent high-definition DVD format could mean billions of dollars in sales for the group of companies that comes out on top.
Both Sony and Toshiba have jockeyed for the lead position, principally by slashing prices and offering rebates. Sony unveiled its second-generation BDP-S300 in February for $599. Soon thereafter in April, Toshiba cut prices down to $399 for some models. In May, the HD DVD Promotions Group announced that Toshiba would offer a rebate of $100 on its new HD DVD players through June 12, further dropping the price of its HD-A2 entry-level player to a scant $299.
Numbers aside, Blu-ray will come out on top, according to Elizabeth Curtis, an associate research analyst at IDC.
"IDC believes that Blu-ray has the necessary studio support and a more compelling product that will eventually lead them to win the format war," she told TechNewsWorld. "At this point it's hard to tell which camp is ahead, but it's undeniable that both are fully invested in this for the long haul.
"The Blu-ray camp definitely feels the pull to decrease player prices as HD DVD continues to drop prices on their players," she explained. "In the future, as more players are sold, Sony will be able to ramp up production to the point where price cuts are due to increased production. Meanwhile, although sales and production are increasing, Sony is still most likely to losing money on these players and cutting prices to remain competitive in the format war."
Consumers Win
The recent cuts, said Yankee Group analyst Joshua Martin, are not likely due to growing demand.
"From a high level, there are a couple reasons for [the lowered price]. Primarily, one is to get some more volume on the Blu-ray players — the diode or the laser head. That will do two things. One, it will increase the penetration in the market for Sony players — which is competing against other people in the Blu-ray space, not like Toshiba, where they are the only game in town for the most part," he noted.
"But also, it helps the PS3 to a certain extent. If they can get the production costs down on the Blu-ray, they can lower the cost per unit of the PS3s they are producing. The other major concern for them is that HD DVD has had a lot of success with the rebate program they had. They're selling for $299 and going into Wal-Mart, and it's a very difficult price point to compete with," Martin concluded.