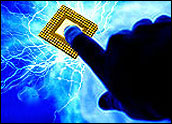 IBM's Blue Gene/L System once again ranks as the fastest computer in the world, coming in at first place on the TOP500 Supercomputer Sites, an organization that ranks the world's most powerful systems. The results were announced Monday at the SC07 Conference, held in Reno, Nev.
Located at the Lawrence Livermore National Laboratory, a Department of Energy lab in Livermore, Calif., the system performs 478.2 teraflops (Tflop/s) — 478.2 trillion calculations per second.
Staying on Top
Blue Gene has come in first on the semiannual ranking since November 2004. However, recent upgrades have boosted the supercomputer's computational power by more than two-thirds. Six months ago, Blue Gene was only capable of 280.6 Tflop/s.
"What's good about this competition is that it drives innovations, many of which trickle down into the enterprise," said James Staten, a principal analyst at Forrester Research. "No longer is the list dominated by specialized systems and processors that will never show up inside an enterprise. Now the opposite is true, and that's good news for every business and even consumers."
In total, 232 of the supercomputers included on the list were from IBM, a record for a single vendor. Four of those computers made it into the Top 10. The overwhelming majority of the computers were built with commodity style, PC microprocessors, according to IBM.
The TOP500 organization has been tracking and ranking the power of super computers around the world for 15 years.
Fastest of the Fast
The No. 2 spot went to another IBM machine. Blue Gene/P, sister to Blue Gene/L, is a newer version and a brand new installation. Located at the research consortium Julich in Germany, Blue Gene/P's performance was clocked at 167.3 Tflop/s and is Europe's fastest system.
The New Mexico Computing Applications Center's (NMCAC) first system ranked No. 3 with a posted speed of 126.9 Tflop/s. The NMCAC's new Rio Ranch, N.M., supercomputing center uses a system built by SGI and based on the Altix ICE 8200 model.
In a first for the TOP500, India's Computational Research Laboratories, a wholly owned subsidiary of Tata Sons in Pune, India, broke into the Top 10 and earned the No. 4 rank. Its HP Cluster Platform 3000 BL460c system, integrated with the company's own routing technology, achieved a top speed of 117.9 Tflop/s.
Another HP Cluster Platform 3000 BL460c system, this time installed in Sweden, came in at No. 5 with 102.8 Tflop/s.
The entry point to make it onto the list increased this go-around from 4.0 Tflop/s in the previous contest to 5.9 Tflop/s. That is a significant increase, according to the organization. The computer ranked in the 500th spot would have come in at the No. 255 spot on the list released earlier this year.
Likewise, to crack the top 100 supercomputers, minimum performance increased from 9.29 Tflop/s to 12.97 Tflop/s
Powered By …
Intel processors provided the power for a record high of 354, or nearly 71 percent, of the supercomputers on the TOP500 list. That was a 23 percent increase for Intel over six months ago, when Intel chips were found in just under 58 percent of the systems.
Archrival AMD and its Opteron family of processors, on the other hand, was the second most common processor for the second time, used in 78 systems, or about 16 percent, a drop of nearly 6 percent from its total six months ago of 105 computers.
Multicore processors were the chip architecture of choice, list organizers said. Intel's Clovertown quad core chips, which powered just 19 systems on the list released earlier this year, were found in 102 computers representing the "most impressive growth." The majority of the remaining systems use dual core processors.
"It's significant that Intel is gaining on AMD. Intel's latest x86 processors have pretty much erased the advantages that AMD enjoyed for the last few years," said Tom Halfhill, senior analyst at InStat.
"The supercomputer list is a visible example of Intel's comeback, but it's less important than the PC market, which is where the real volumes are. AMD needs to redouble its efforts to stay in this race and to prove that its acquisition of ATI wasn't an expensive mistake," he added.
Although the news may have been disappointing for AMD, Staten pointed out that from a long-term perspective Intel and AMD's use in these superfast computers is not all that significant.
"Historically, AMD and Intel have continued to leapfrog each other from generation to generation of product. For now, Intel has the lead but AMD remains competitive and could just as easily have more wins next year," he continued.
While computer manufacturers may tout their ranking on the supercomputer list, making it into the TOP500 does not necessarily equal a bump in sales.
"While the supercomputer 500 gives vendors and a laboratory bragging rights, it's misleading to say that a win on the list — or having a high percentage of wins on the list — translates into overall market success," Staten noted.
"This is a specialized market with inordinate demands. While many large enterprises are now consuming supercomputer-class technologies, they still tend to view those purchases as completely separate from their mainstream datacenter purchases," he continued.
Gaining Speed
Even as IBM applauds its achievements on the TOP500, the hardware maker's efforts to mark a computing milestone with a system capable of executing a petaflop, or 1,000 trillion calculations every second, continues. Such speed has the potential to exponentially expand the breakthroughs in science and engineering "by providing predictive and highly detailed simulations," the company said.
One of the several supercomputer platforms in the works that could usher in the petascale era is IBM's upcoming Roadrunner. In addition to its AMD PC-type processors, the system, scheduled for delivery to the Los Alamos National Laboratory in summer 2008, uses the Cell Broadband Engine, more commonly found in the Sony PlayStation 3 video game console.
The chip reportedly cost partners Sony, IBM and Toshiba around US$1.65 billion to develop. The combination of the two styles of microprocessors will enable Roadrunner to reach speeds exceeding a petaflop and at the same time offer a highly energy-efficient operating environment, according to the company.
Graphic processing units (GPU) are becoming increasingly popular for high-performance computing mainly because they have lots of processing horsepower that can be harnessed for that purpose and also because they are commodity parts, InStat's Halfhill explained. While PC processors are also commodity parts, they are further behind GPUs in multicore integration.
"Today's best PC processors have only four cores, whereas the best GPUs have dozens of vertex shaders and other processing units that can function as cores. Although there are massively parallel processors with hundreds of cores now coming into the market, they tend to be highly specialized chips and are not commodity products."
Including IBM's Cell — although it is not really a GPU — fits into the general trend toward higher multicore integration, Halfhill told TechNewsWorld.
"IBM is eating its own dog food, so to speak. By choosing the Cell BE for its next supercomputer, IBM is endorsing Cell as a world-class high-performance microprocessor," he noted. "It's not just for video games machines."
Tell Me What to Do
It may be a surprise to gamers, but the Cell has a following in the high-performance computing (HPC) space as one of a handful of programmable chips that can be leveraged for specialized calculations, Staten explained.
"Cell is a programmable processor, meaning that each of its processor cores can be programmed to execute a different type of function. This allows a programmer to leverage Cell for more than just graphics, floating point or video. The cores can be programmed to do other functions as well, as needed," he added.
It has been available as an option on previous HPC offerings from IBM as well as in enterprise solutions such as blade servers, Staten stated.
"So, it's not unique that Roadrunner has Cell, just a statement from IBM that it believes the market for Cell has matured to the point that they can offer it as a standard feature in products aimed at this market, rather than just an option."
The current popularity of GPUs as alternative processors for high-performance computing could fade as better multicore processors come along, according to Halfhill
"Another possibility is that GPUs have found a new market that they will continue to exploit — which may be necessary for their survival, as CPUs begin to integrate graphics. At this point, it could go either way," he concluded.