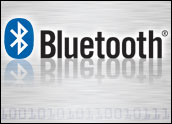 With cable-and-wire spaghetti proliferating in and around our homes and offices, threatening to consume our devices and us in the end, it may be time to take a look at Bluetooth wireless technology, which is great if you can get it to work.
Wire management in the financial trading floor school of thought consists of filling raised flooring with cables progressively until the voids are full — and then moving the operation to new premises and starting again, with new and resultant reduced wires. Nice idea.
Bluetooth Applications
Headsets protruding awkwardly from an ear is the typical Bluetooth image that comes to mind. However, there are other common wire-reducing applications, like file transfer and music distribution.
More unusual applications include data tracking — like a planned Bluetooth-enabled data tracking pressure sensor in Nike training shoes and an upcoming Bluetooth toothbrush.
Bluetooth Specifications
Bluetooth radio technology operates in the unlicensed 2.4-to-2.485 GHz band. Interference with other users of the spectrum — like WiFi — is avoided through frequency hopping. Maximum range is not mandated by the specification.
However, power use is designed to be low in order to provide good battery life. A high data-transfer rate is not a design element. Consequently, Bluetooth is a suitable substitute for wiring over short range, where file size is manageable.
Following is a look at how to use Bluetooth, along with some of the problems that can be encountered.
First, Identify
Identify the Bluetooth radio functionality in your existing gadgets. It's commonly found in laptops, smartphones and tablets. Look for an option labeled "Bluetooth" within the "Wireless" or "Wireless and Network Settings" or similar options. Sony uses the term "Settings Communication" and BlackBerry uses "General."
Bluetooth needs to be turned on too, so check that checkbox.
Look for a Bluetooth logo on your existing gadgets, or on those you're buying. It's a multiple triangular icon inscription — from the 10th century — on an oval blue background. The combination wordmark with the word "Bluetooth" can be sometimes used on the packaging.
Bluetooth-Enabled Products
Classic, often wired products that can be wirelessly Bluetooth-enabled include stereo speakers and headphones.
Notable newer applications include a soundbar, upcoming smart watches, active shutter 3D television glasses, automobile text-to-speech functionality, a group cycling communication device, modem connectivity, key finders, photo frames, stereo sunglasses, universal remote controllers, an arcade game controller, cameras, printers, GPS connections, data collection for weather meters ,and medical gear like blood pressure monitors.
In other words, it's here to stay.
Powering Up
Turn the second device on. Both devices need to be switched on for Bluetooth to function, just as they both need to include a Bluetooth radio.
Look for hardware switches in the case of a laptop, or software-based commands.
Pairing Devices
Pair the devices by setting one to "Discoverable" within the Bluetooth options. For UI reasons, this is easiest on a smartphone, tablet or PC. Then check "Scan for Devices" or similar.
At the same time, have the device you want to connect enter Pairing mode. You may need to check the documentation on how to perform this, but it's often a matter of pressing and holding a Bluetooth icon, or labeled button.
The light may go a solid blue first. When the lights on the device flash alternately red and blue, it's in pairing mode. Then release the button.
Device Passkeys
Enter a passkey, if prompted, by entering the key from one of the devices onto the other device. "1111" and "0000" are often used.
Successful pairing will be indicated by the paired Bluetooth device being listed on the smartphone, tablet, or PC's Bluetooth settings menu, often using a cryptic model number that you will need to identify.
A "Paired but not connected" message is a prompt to touch the settings menu item label, whereupon the devices will connect.
Troubleshooting Tips
Check for drivers by performing a Web-based search for a driver if a device won't connect to your Bluetooth-enabled PC. Enter the device model number, operating system and the words "Bluetooth driver."
Most computer drivers install automatically, but sometimes they don't. I've experienced an issue with a smartphone-to-PC connection for transferring camera images.
Download the driver and follow the prompts to install, then try the connection again.
Function Design Problems
Verify that the design of the gear includes the functionality that you want to use if you continue to have problems.
A smartphone can connect to a headset using Bluetooth, but check the user documentation for more complicated functionality.
A wireless stereo gateway for your home stereo won't connect to a mouse, for example.
Technological Profile Trouble
Determine whether the Bluetooth profiles match on both devices by checking the documentation or by performing a Web-based search.
Bluetooth stereo music technology is called "Advanced Audio Distribution Profile," or commonly A2DP. Printers use Basic Printing Profile. Other profiles include Hands Free, and Human Interface Device Profile for mice.
Want to Ask a Tech Question?
Is there a piece of tech you'd like to know how to operate properly? Is there a gadget that's got you confounded? Please send your tech questions to me, and I'll try to answer as many as possible in this column.
And use the Talkback feature below to add your comments!