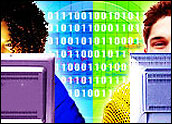 Online content creation is an increasingly popular pastime among American teens, but there are sharp differences in the media preferred by boys and girls, according to a new report from the Pew Internet and American Life Project.
A full 64 percent of online teenagers ages 12 to 17 engage in at least one type of content creation today, up from 57 percent of online teens in 2004, according to the report, entitled "Teens and Social Media." However, the type of content preferred varies dramatically between genders, with girls dominating blogging and boys tending to choose video.
"The increase in content creation is reasonably — but not entirely — surprising," Amanda Lenhart, senior research specialist with the Pew Internet & American Life Project, told TechNewsWorld.
"What's interesting is that we now have a better picture of where boys fall in here," she said. "We found boys are most interested in creating and posting videos, whereas girls dominate pretty much everywhere else."
The report is based on a national phone survey of 935 youth ages 12 to 17 in December 2006. The margin of error for the survey is 4 percentage points.
Content Choices
Some 35 percent of all teen girls blog, compared with only 20 percent of online boys. Fifty-four percent of wired girls post photos online, compared with 40 percent of online boys, according to the report.
"I can't validate it scientifically, but as a father of three teenage daughters, this doesn't surprise me at all," Mike Gotta, principal analyst with Burton Group, told TechNewsWorld.
Many teen girls begin blogging on LiveJournal, and then switch to Facebook once they reach high school, he noted.
Online teen boys are nearly twice as likely as online girls to have posted a video online where someone else could see it, the Pew report suggests, with 19 percent of boys posting videos compared with only 10 percent of online girls.
Overall, 39 percent of online teens share their own artistic creations online, including artwork, photos, stories or videos. Thirty-three percent create or work on Web pages or blogs for others, including friends and school assignments, while 28 percent have created their own blog — up from 19 percent in 2004.
Twenty-seven percent of online teens maintain their own Web pages, and 26 percent remix content they find online into their own creations.
Creating Conversations
When it comes to sharing content, teens go beyond simply posting content online to participating in conversations fueled by that content. Nearly half of online teens have posted photos where others can see them, and 89 percent of those teens say that people comment on the images at least "some of the time," report results suggest.
Teens who post videos report a similarly large incidence of feedback, with nearly three quarters of them receiving comments on their videos.
"Content creation is not just about displaying and promoting yourself, but very much about creating a conversation around the content," Lenhart explained. "This is entirely facilitated by social networks, which are now designed to increase participation and interactivity."
The 'Uncool' Medium
Indeed, social networking sites are becoming an integral part of the system of communication that teens use every day. A full 41 percent of the teens who use MySpace, Facebook or other social network sites say they send messages to friends via those sites every day, according to the report.
A new segment of what Pew calls "multichannel" teens use multiple technologies to deal with family and friends, including traditional landline phones, cell phones, texting, social network sites, instant messaging and e-mail. These super-communicators represent about 28 percent of the entire teen population and they are more likely to be older girls, Pew says.
Among all teens, however, e-mail is increasingly becoming the communication mode of last resort.
"Access to social networks and cell phones has opened up new channels for today's teens," said Mary Madden, senior research specialist with Pew and an author of the report. "New technology increases the overall intensity and frequency of their communication with friends, with e-mail being the one glaringly uncool exception in their eyes."
E-mail is "only for strangers or when you're e-mailing companies and ordering things," Gotta agreed. "It's not in their peer circle — that's all text messaging."
For the 63 percent of teens who have cell phones, the devices are the premier communication method for talking with friends, with 55 percent of that group using them to talk with friends every day, Pew finds.
Access Restrictions
Finally, one other interesting finding that came from the Pew report is that teens are apparently more likely than adults to restrict access to content that they share online. Some 66 percent of teens with social network profiles restrict access to their profiles in some way, and 77 percent of those who upload photos restrict access to them at least "some of the time," the report's findings suggest. Only 58 percent of adults who post photos, by contrast, restrict access to them in some way.
That may seem like good news, but it's not necessarily as encouraging as one might think, Parry Aftab, cyber-crime lawyer and executive director of WiredSafety.org, told TechNewsWorld.
"There are both good and bad reasons why teens are using privacy settings," Aftab explained. "The good one is that most kids are concerned about their safety online. The not-so-good one is that they don't want their parents to see what they're posting."
While teens increasingly set limits on groups that can view their content, they're also more likely to allow anyone who asks to join, Aftab added.
So, overall, "it's good news and not-so-significant news when you realize teens let pretty much everybody in, and that much of what they do is to keep their parents out," she concluded. "Nevertheless, the word's out there, and little by little, we're getting there."