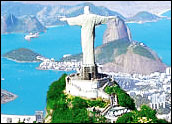 Brazil has proposed new laws that would force e-businesses selling to Brazil-based consumers to store personal data about said customers on local servers.
Google and Facebook have raised objections to the plan, saying that such requirements would, in the words of Facebook Brazil, "entail huge costs and inefficiencies in online business in the country."
It is perhaps worth noting that the partner of leak-publishing Guardian reporter Glenn Greenwald who was recently detained by British officials is Brazilian.
[Source: Reuters (Portuguese) via out-law.com]
Facebook Teams With Tech Giants to Launch More Internet
Facebook announced a partnership with a handful of international tech giants to launch Internet.org, a project dedicated to providing affordable Internet access to the estimated 5 billion people who currently don't have it.
The Facebook-led coalition hails from Scandinavia and Asia; the roster includes Samsung, Nokia, Qualcomm, MediaTek, Ericsson and Opera. Together, they will work on data-compression technologies, creating cheaper smartphones and establishing mutually beneficial incentives for app developers, device manufacturers and operators.
The push is rooted in the ideas that "everyone deserves to be connected" and that "connectivity is a human right," according to Facebook head Mark Zuckerberg. Of course, each of the companies involved would stand to gain should more people have access to the Web, to wireless networks and smartphones. Call it philanthropy with upside.
[Source: Facebook via TechCrunch]
David Cameron Finds Himself in NSA Mess
The UK's shadow home secretary — this is essentially a position designed to scrutinize domestic government policy — said that parliament's intelligence watchdog should investigate Prime Minister David Cameron's role in asking The Guardian to destroy or forfeit secret NSA documents.
The shadow home secretary, Yvette Cooper, made the announcement after reports by The Daily Mail and The Independent claiming that the UK's cabinet secretary, Sir Jeremy Heywood, asked The Guardian to do away with evidence of data collection at the behest of Cameron.
This followed news that British authorities detainedand took materials including a memory stick, mobile phone and camera from David Miranda, the aforementioned partner of Guardian NSA journalist Glenn Greenwald.
[Source:The Guardian]
Student Develops Apps for War-Torn Families
Jorge Just, a student at New York University's Tisch School for the Arts, has developed an app designed to connect children with their families in areas ravaged by war.
Just made five trips to Uganda, finding that there was no efficient means for children to reconnect with parents should they end up at different refugee camps in different parts of a country (or continent).
The app, called "Rapid Family Tracing and Reunification," or RapidFTR, has reduced the amount of time it takes families to reunite from more than six weeks to mere hours, according to UNICEF.
The app has been deployed at the Nyakabade Transit Center and the Rwamwanja Refugee Settlement camp in Uganda, home to children from the Democratic Republic of Congo who often arrive after fleeing rebel violence. At least 70 children have been reunited with their families thanks to the app, Just says.
[Source:The New York Times]