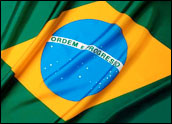 Brazil does not plan to grant asylum to Edward Snowden, according to sources cited by Brazilian newspaper Folha de S.Paulo.
Snowden stoked the Brazil asylum speculation Tuesday when he offered, via an open letter, to help Brazil investigate the extent of spying on Brazilian citizens and President Dilma Rousseff.
Snowden's temporary asylum in Russia, where he fled to after a stint in Hong Kong, is set to expire in August. Brazil is a logical, albeit unsuccessful, place to seek asylum: Rouseff has been none too shy about her displeasure with U.S. surveillance, having canceled a planned visit last summer and condemned U.S. surveillance practices in front of the UN General Assembly. (President Obama happened to be in the house.)
Revelations have since surfaced that Brazil has had a snooping habit of its own.
[Source: Reuters]
Woman's Facebook Habit Almost Leads to Drowning
A weird one, this.
In Melbourne, Australia, a Taiwanese woman reportedly walked off a pier — and into the sea — because she was transfixed by her mobile Facebook habit. The unidentified woman told police that she cannot swim. She somehow stayed afloat for 20 minutes — and somehow managed to hang onto her phone throughout the ordeal.
She was taken to the hospital and deemed OK. No word on whether or not she will seek help for the Facebook addiction.
[Source: BBC via The Next Web]
Chinese Antitrust Authorities Threaten Arrest
Taking a break from their antitrust case against Qualcomm, Chinese authorities threatened to arrest reps from a U.S. patent licensing company currently in a tiff with Chinese telecommunications giant Huawei.
In what seems a pretty spooky warning, China's National Development and Reform Commission told Interdigital — a San Diego-based intellectual property group that owns patents for high-speed wireless communications — that any executive or legal representative who attended a planned meeting in Beijing could be detained or arrested. Interdigital thus decided not to send anything to China for the meeting, which had been scheduled for Wednesday.
The hubbub is part of what appears to be a push by the NDRC to crack down on monopolistic practices, or what it perceives to be monopolistic practices, by foreign companies.
Interdigital launched a legal battle against Huawei in both China and the U.S. Not to be outlitigated, Huawei brought a countersuit in China, accusing Interdigital of anticompetitive practices. Huawei won the case and was awarded US$3.3 million in damages.
China's action against Interdigital and Qualcomm, which has its own catalog of high-speed communications patents, coincide with the nation's Wednesday launch of its first-ever 4G network.
[Source: The Financial Times]
UK to Increase Oversight of Huawei
In related news, the UK government plans to increase oversight of Huawei because of fears the telecom could be dishing sensitive info to Beijing.
The nation's GCHQ intelligence agency will assume an expanded role at Huawei's Cyber Security Evaluation Centre, or HCSEC, which was established by Huawei to inspect potential security vulnerabilities.
The UK has had many of the same concerns about Huawei as the U.S. — namely that the company is a bit too cozy with the Chinese government, and that it is a threat to peddle information. Huawei has denied an improper relationship with Beijing.
[Source: BBC]
Nortel Settles Bankuptcy Claims
Now-defunct telecom Nortel Networks reached a deal that will allow the company to shave $3 billion from the amount it allegedly owed former entities in Europe.
Insolvent Nortel entities and a pension trustee in Britain will receive high-priority administrative claims totaling $37.5 million as compensation for withdrawing their claims.
Nortel, a Canadian company, was once worth $250 billion and employed nearly 100,000 employees around the globe.
[Source: Reuters]