Brian Cox's Wonders of Life by HarperCollins is an iOS app available in the iTunes App Store for US$4.99.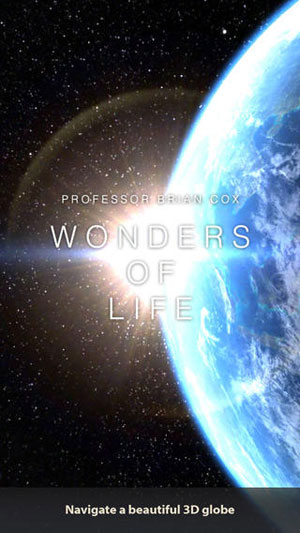 In my mind, there are three elements that bring a great naturedocumentary to life: first, you need great video footage; second, youneed to infuse the content with a sense of time, scope, and wonder;and third, you need a cool narrator.
Brian Cox's Wonders of Life app delivers all three. I stumbled uponthe app after Apple highlighted it as an Editor's Choice. This isn'tCox's first appearance in an app, however — he was the physicsprofessor star of Brian Cox's Wonders of the Universe — both an award-winning BBC television show and an app.
As for the new Wonders of Life app, Cox brings histhoughtful-yet-enthusiastic brand of British accent to describe morethan 30 animals around the world. The app is structured around a 3Dtour of Earth, letting you view our small planet from space and thennavigate around it, zooming down into habitats to get a closer peek atlife as we know it.
'Animals Being Awesome'
The video quality of the app is fantastic, bringing you short clipsthat dive into the lives of critters, sharing closeups of animals inaction paired with narrative candy: Dragonflies, for instance, canpull 2G turns in flight, and scorpions essentially can "hear" thevibration made by the movement of a single grain of sand through theirlegs.
One user review, in particular, is well worth sharing: "If you have to be told why a well made app full of high def video of animals being awesome is worth the $ [then] this isn't for you," wrote Trent685838.
The Brian Cox's Wonders of Life app is designed to createan experience. While the video action is the main claim to fame –nearly 2.5 hours of HD video — the app boasts a contemplativesoundtrack that really comes alive when you experience the app with aset of headphones. The soundtrack follows your movements through theapp as you zoom into a an area of the world and choose an animal toexplore.
In addition to videos and in-depth graphics andinfo-graphics, the app includes mini articles that you can read fordeeper insight. While not exactly hard-core science reading, you canexplore life, as well as the idea that life contains somethingwe can't quite exactly yet explain through science — such as a "soul,"which is offered up more for lack of a better term.
The point of the app doesn't seem to be to offer up new research oreven in-depth explorations into each animal, but rather to celebrate the secrets of life with moments of inspiring detail.
For instance, the Fowler's Toad has eyes that are structurally similarto human eyes, but they seem to ignore most everything that isn't along and thin bug that moves horizontally. So, if a mealworm wandersnear, the toad will leap into action.
Put another way, the app showsoff an experiment that showed a thin rectangle scrap of paper movinghorizontally around a toad, which caused the toad to try to eat it.When the paper was moved around the toad in a vertical orientation,however, the toad totally ignored it. Wild. And that's just a toad.
Minor Quibbles
The navigation scheme, complete with soundtrack (and a luscious use ofa movable sort of wallpaper in each area of the world), helps create asense of exploration and wonder that connects animals that arethousands of miles apart. Yet every now and then, I found thespinning and zooming in tedious. Initially, the navigation helps youbecome engaged with the content, but later seems to slow down yourexperience — a Catch-22 of sorts.
If you're interested in taking the Brian Cox's Wonders of Life appplunge, just make sure you're running iOS 7. Even if you are, youmight be more interested in watching thefive-hour series as full-length videos based on the initial BBCproduction. At $13.99 for the HD version of the series, it's a viableoption. The good news is that either way, you can't go wrong.