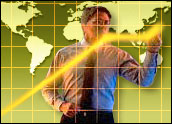 The Next Web, a network of online technology outlets, continued its annual conference Friday in Amsterdam.
Heeding to Amsterdam's night life, The Next Web waited until 10 a.m. to get things started, which was probably just about as early as the sleep-deprived attendees could have hacked it.
Start the Morning With Cereal
First up at 10:00 was Joe Gebbia, cofounder of Airbnb, who set the day's theme of counterintuitive thinking by rehashing how cereal, of all things, played an integral roll in springboarding his company, recently valuated at US$1 billion.
Airbnb is a service for people to lease out their available space. The idea was born of desperation: Gebbia was the website's first user because, when things got dire, he rented out the couch in his San Francisco apartment to pay rent.
While Airbnb paid that month's rent, it floundered out of the gates as a bona fide space-sharing company. But as this was in the lead-up to the 2008 election, Gebbia and his cofounder thought they could stay afloat by making a limited edition cereal — Obama O's: Hope in every bowl!
Cereal, of course, is not a typical way to launch a Web service — but it worked. And that helped shape Gebbia's philosophy on launching a Web startup.
"Solve what's in front of you," he said Friday. "When you get started, don't burn yourself with long-term strategy. We took problems one at a time, as we faced them."
Even if that meant becoming cereal manufacturers.
Another counterintuitive nugget born of Airbnb's success: "Do things that don't scale," Gebbia said. "I think this is against conventional Internet wisdom, but when you have 25, design for 25 — not 25,000 ..
"One hundred people who love you is more powerful than 1 million who kind of like you …This is how we grew in the early days."
Waiting for Payday
The next speaker to shoot down conventional Internet wisdom was Phil Libin, CEO of Evernote, a cloud service that last week was valuated at more than $1 billion.
Before blossoming into the giant it is now, Evernote's beginnings were perfectly humble. It launched in 2008 and seemed eons away from being what it is now.
In its first month, January 2008, only one-half of 1 percent of Evernote users paid for the Evernote Premium, the for-pay service that, in theory, was to be the company's vehicle to profitability.
"When we first started selling premium account in June 2008, we had 11,000 customers," Libin said. And those 11,000 people bought $700 worth of premium accounts."
Now, four years later, Evernote has 20 million users, and suffice it to say, they are north of $700: More than 25 percent of those 20 million use the premium service, helping fuel the billion-dollar valuation.
"That's kind of amazing, right? That means that four years ago there were all these people who signed up for Evernote, and who used this for free — never paid us a dime for four straight years — and somehow, in their 45th month of using Evernote, decided, 'Dammit, I'm going to give them five bucks.'
"And that's why our fundamental model is, 'It's more important that you stay than that you pay.'"
While they never succumbed to making cereal, Evernote didn't worry about raking in dough. Instead, they developed a long-term ethos.
"If we don't sell anything, we still get more," Libin said. "The central observation that we had at Evernote is that, 'People like to buy, but people don't like being sold to.' So we never try to sell you anything. We never try to get you to pay. We try to get you to use it long enough and then you fall in love."