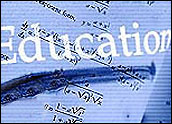 President Bush signed into law Thursday the America Competes Act, designed to boost research and education in math and the sciences through a funding package of about US$42 billion.
Formally dubbed the "America Creating Opportunities To Meaningfully Promote Excellence In Technology, Education And Science Act" (America COMPETES), the bill aims to bolster basic research in the physical sciences, to improve instruction in math at the elementary and middle-school levels, and to expand low-income students' access to Advanced Placement and International Baccalaureate coursework by training more teachers to offer math, science, and critical foreign language classes specific to those programs in high-need schools.
Among the targeted research areas are nanotechnology, supercomputing and alternative energy sources.
"By focusing and investing in four key areas — math and science education, research and development, energy independence, and small businesses — the America Competes Act will launch new thriving industries that will produce millions of good jobs here at home and a better future for the next generation," said Speaker Nancy Pelosi.
'Bipartisan Spirit'
"This legislation shares many of the goals of my American Competitiveness Initiative (ACI)," Bush said after signing the bill.
"ACI is one of my most important domestic priorities because it provides a comprehensive strategy to help keep America the most innovative nation in the world by strengthening our scientific education and research, improving our technological enterprise, and providing 21st century job training," he added.
Bush praised legislators for their "bipartisan spirit" in tackling the competitiveness challenge. He also chastised Congress, however, for failing to authorize his Adjunct Teacher Corps program. He also complained that the new legislation "includes excessive authorizations and expansion of government."
'Duplicative or Counterproductive'
The act creates more than 30 new programs "that are mostly duplicative or counterproductive," Bush charged, including a new Department of Energy agency to fund late-stage technology development "more appropriately left to the private sector."
Such duplications and excesses "will divert resources and focus from priority activities aimed at strengthening the basic research that has given our nation such a competitive advantage in the world economy," he added.
"Accordingly, I will request funding in my 2009 budget for those authorizations that support the focused priorities of the ACI, but will not propose excessive or duplicative funding based on authorizations in this bill," Bush said.
Exciting Prospect
Researchers and corporations that work in the physical sciences expressed enthusiasm about the act's potential.
"We're pretty excited about the possibility of increased funding for the physical sciences," Jay Sharping, professor of physics at the University of California at Merced, told TechNewsWorld. "Funding for physics fuels innovation, and that's the basis for things that make our lives better," he added.
"We thank the Senate and the House for their leadership, and the president for his commitment to advancing domestic innovation policy," said Victoria Hadfield, president ofSEMI North America, a semiconductor industry association. "SEMI is deeply involved in policy initiatives targeted at strengthening the American workforce, increasing competitiveness and innovation, and providing incentives to companies developing enabling technologies," she noted.
"This has been a significant bipartisan effort, and we look forward to addressing the remaining key priorities," Hadfield added, including an R&D tax credit designed to encourage private-sector initiatives in technology.
Too Little, Too Late?
Not all observers were so sanguine, however.
"I'm cynical," Roger Kay, president of Endpoint Technologies, told TechNewsWorld. "These are laudable goals, and on the surface it sounds fine, but so did the No Child Left Behind Act, which, when executed, turned out to be a disaster."
The United States clearly does need to improve education in science and math, and to invest in technology innovation, Kay said, because "we have fallen behind some of our competitors on the world stage."
Yet "the devil is in the details," he warned.
"This particular president has shown such a total disinterest in real scientific facts and real math, that I don't know any program he promotes will make any difference on the ground," Kay said. "It's too little, too late — he waited until the country slid to the edge of the abyss."
Repeating History
The America Competes Act "really seems to be trying to one-up the Karl Marx expression that 'History repeats itself — first as a tragedy, second as a farce' by trying to do both at one time," Andrew Coulson, director of theCATO Institute Center for Educational Freedom, told TechNewsWorld.
The act is highly reminiscent of the National Defense Education Act of 1958, passed following the Russians' launch of Sputnik, Coulson noted. NDEA was poorly managed and spent money on things not directly linked to educational quality, he added.
"Today, we're trying to do the same thing — giving no acknowledgment to the fact that we've already been down this path before and not seen much success from it," Coulson said.
An Ironic Approach
It's also ironic, he added, that the bill is using a centralized planning approach to address a competitiveness issue. "Rather than using that same idea of competition to improve education by allowing schools to compete with each other — improving quality that way — instead, we have a central planning approach."
Indeed, "India, China and other nations are competing with us now because they have broken down suffocating centralization," added Neal McCluskey, education policy analyst at the CATO Institute. "Increasing ours in response simply makes no sense."