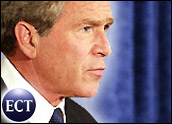 Every time Congress has passed legislation to ease stem cell restrictions in recent years, President Bush has vowed he would veto the bill, and that's just what he did again on Wednesday.
"If this legislation became law, it would compel American taxpayers — for the first time in our history — to support the deliberate destruction of human embryos," Bush said in a speech.
"I made it clear to Congress and to the American people that I will not allow our nation to cross this moral line," he asserted. "Last year, Congress passed a similar bill — I kept my promise by vetoing it. And today I'm keeping my word again: I am vetoing the bill that Congress has sent."
Maintaining Restrictions
Created in the first days after conception, stem cells are collected from frozen embryos created via in vitro fertilization at fertility clinics. The embryos are "extras" that are not needed by parents, and are destroyed in the harvesting process.
Under current legislation, federally funded scientists can conduct research on embryonic stem cells only if the cells were derived before 9 p.m. on Aug. 9, 2001.
S.5, or the Stem Cell Research Enhancement Act, would amend the Public Health Service Act to require the secretary of Health and Human Services to conduct and support research that uses human embryonic stem cells regardless of the date on which the stem cells were harvested.
"We're delighted," Joe Scheidler, national director for the Pro-Life Action League, told TechNewsWorld. "To pretend this is something we could do with impunity would be to deny our belief in the value of these individuals."
'Very Disappointing'
While certainly not unexpected, the president's veto came as a blow to scientists and supporters of the bill.
"It's very disappointing that the president continues to defy the will of the majority of members of Congress and of the public," Sean Tipton, spokesperson for the Coalition for the Advancement of Medical Research, told TechNewsWorld.
"Democrats and Republicans did the right thing by passing legislation that advances embryonic stem cell research and imposes stricter ethical rules than the president's current policy," said Sen. Tom Harkin (D-Iowa), who is the lead sponsor of the legislation.
"The American people should not be fooled — there is no substitute for this type of research, which is endorsed by major medical and scientific associations, research universities and institutions, and dozens of patient-advocacy organizations representing millions of Americans," Harkin said. "Our legislation takes the shackles off of researchers and allows the most promising field of biomedical research of our day to move forward."
Unique Potential
While President Bush has endorsed research using adult stem cells, scientists believe embryo stem cells hold unique promise.
"We believe that access to federal funding for additional lines of embryos would really move the science forward," Andrew Cohn, a spokesperson for the WiCell Research Institute, told TechNewsWorld.
The only people who argue for adult stem cell research as an alternative to research with embryo stem cells are politicians and journalists, Cohn explained.
Need for Both
"Scientists understand that both are important," he said. "A lot of progress made with adult stem cells helps inform those working with embryonic stem cells, and vice versa. It's all about the questions you're asking."
For example, a research project investigating heart cells would currently need embryonic stem cells, because they can differentiate into heart cells in a Petri dish, Cohn explained. Adult stem cells, on the other hand, have not been found to do that.
It's even possible that using embryonic cells might show researchers how to get adult stem cells to differentiate in a similar way in the future, he added.
A Continuing Effort
Now that the official veto has been delivered once again, supporters of embryonic stem cell research vowed to keep working to get restrictions loosened.
"We won't stop," Cohn said. "We will continue to work and try to convince more house members and one more senate member to override the veto."
While the Senate was short by just one vote of the number required to overturn Bush's veto, more votes would be needed in the House, he added.
'Moves Afoot'
"There are moves afoot today to loosen the president's restrictions by using one of the funding bills," Tipton added.
One being raised Thursday, for example, would extend the cutoff harvesting date for embryonic stem cells researchers could use from August 2001 to June 2007, he said. "This would make a whole new range of stem cell lines created over the past six years available for use," he said.
Clinic trials in spinal cord injuries already underway at Geron using embryonic stem cells could fuel further support, Cohn added. "If they're successful, there will be a virtual stampede to support human embryo stem cell research," he said.
Until then, the battle will continue, very likely into the next presidency. "Science is on our side, hope is on our side and the American people on our side," Harkin said. "We will continue to fight for this legislation and do whatever it takes to ensure it becomes law."