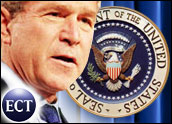 Just a week ahead of the Group of Eight (G8) summit to be held in Germany next week, President Bush Thursday outlined his own proposal to combat global warming.
A group of 15 or so nations will be invited to a meeting in the United States this fall as part of a plan to agree upon a global target for reducing greenhouse gas emissions by the end of 2008. The nations included will be those that are responsible for the most emissions, he said, including China and India.
Once a goal is set, each nation would be left to develop its own strategies for meeting that goal, as well as its own midterm targets, Bush said.
Kyoto Alternative
Global warming is expected to be a key topic at the G8 meeting next week, and many have speculated that Bush would come under fire there for his lax environmental policies.
"The United States takes this issue seriously," the president asserted in his speech. "The new initiative I am outlining today will contribute to the important dialogue that will take place in Germany next week."
Bush's plan is designed to replace the 1997 Kyoto Protocol to the United Nations Framework Convention on Climate Change, the international agreement to cap greenhouse gas emissions that is due to expire in 2012.
Technology Over Trading
Bush has steadfastly rejected the Kyoto Protocol, as well as a recent German proposal to extend it after 2012.
While the Kyoto Protocol is based on a "cap and trade" system, whereby nations not yet able to comply with emissions caps can purchase credits from those that surpass them, Bush's proposal focuses instead on new technologies for clean energy.
"The way to meet this challenge of energy and global climate change is through technology, and the United States is in the lead," he said. "The world is on the verge of great breakthroughs that will help us become better stewards of the environment."
Nothing New
Bush's proposal has been met with widespread skepticism from environmental groups.
"It's great that he's proposing what people have already been proposing for a long time, but the Bush administration has shown very little interest in this kind of cooperation in the past," Martin Wagner, managing attorney of the international program for Earthjustice, told TechNewsWorld.
"Just to say 'we're going to collaborate' is great, but you've got to walk the talk, and so far the United States hasn't done that," Wagner noted. "They're going to have to prove that they really mean it."
Start at Home
There have also been some expressions of cautious optimism following Bush's speech.
"There's a lot that's encouraging here," Environmental Defense spokesperson Tony Kreindler told TechNewsWorld.
"The administration's refusal to commit to limits has lessened its credibility in the international arena," Kreindler said. "What the president really needs to do now is to turn words into action."
Specifically, Bush needs to begin by working with Congress to get one of several pending cap and trade bills passed domestically, Kreindler explained.
"If the administration is going to lead this international effort with any success," he said, "it needs to lead at home."