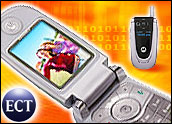 The mall's latest fashion trend is not carried at Liz Claiborne, Tommy Hilfiger or J. Crew. Instead, young adults are flocking into Best Buy and Circuit City for the latest accessory: camera phones.
The product's low price and convenience have sparked a sales boom: Market research firm In-Stat/MDR, a division of Reed Elsevier PLC, found that vendors shipped 50 million camera phones worldwide in 2003, a dramatic increase from the 18.2 million units delivered the previous year.
The low pricing is a result of aggressive promotions by cellular carriers. Facing intense competition, these companies view the devices as a potential solution to their number one problem: customer turnover.
"Consumers who use video services are very 'sticky,' so only a low percentage of them will switch to another operator," said Ira Brodsky, president of Datacomm Research, a market research firm.
Hitting the Right Price Point
The carriers' promotions lowered product pricing from a few hundred dollars in 2002 to less than US$150. The drop had a dramatic impact because the primary users tend to be young adults, who may be able to scrape together an extra $50 or $100 but find a few hundred dollars too much money to spend on a phone.
Convenience is another cellular-camera draw. Because it sits in one's pocket, the camera phone is always available. Individuals can snap unexpected shots (depicting fun on vacation, the challenge of a grueling bike ride or their reaction to spotting a celebrity) and quickly ship the photo to friends or family.
While much interest has stemmed from the consumer market, businesspeople have recently begun buying the products as well. With the need for instant access to information almost universal, individuals often have to tote a laptop, a PDA, a wireless phone and a camera. Camera phones have become so sleek that they easily slip into a pocket or handbag, and they eliminate the need to carry one more device.
High-Tech Contractors
New applications are emerging. Interior decorators use camera phones to determine which shade of paint or wallpaper best matches a customer's living room. Contractors can take pictures of existing windows to make sure the windows ordered for a new addition match. Law enforcement agencies can use their phones to capture images of suspects committing crimes, and news reporters can supplement a story with a few photos.
The growing volume of new uses might raise questions about the impact of these applications on cellular networks. Video transmissions are bandwidth intensive, so overcrowding and congestion on cellular networks are possible. Yet, Sprint PCS reported handling 66 million picture uploads in 2003 without any impact on its network.
While offering many benefits, camera phones also possess limitations, starting with photo quality. "Today, camera phones' photo quality is almost like toys: good enough for phone-to-phone links, barely acceptable for phone-to-e-mail, but definitely not good enough for prints," Datacomm Research's Brodsky told TechNewsWorld.
Camera phones now deliver about 1-megapixel resolution, which does not provide enough clarity for even a high-resolution 3″-by-5″ photo. Camera phones with 2-megapixel capabilities are starting to hit the market, but observers think the devices eventually will have to support 3 to 4 megapixels to deliver the resolution customers desire.
Can You See Us, Grandma?
Camera-phone features are limited in several other areas as well. The display size hasn't been a significant problem yet because most users are young and their eyesight generally is good. But as the products move further into the mass market, older customers could have trouble with small displays.
Manipulating the devices is another area in which users may experience difficulty. Trying to determine where the camera commands end and the phone entries begin can be a challenge even on the best and most intuitive interfaces.
Also, camera phones can't be used in all scenarios. "Most camera phones don't have a flash, so there can be problems taking photos in dimly lit places," said Neil Strother, a senior industry analyst with InStat/MDR. In addition, camera phones may not have features like a zoom lens. Because the camera phones are small but their workings are complex, suppliers have had trouble developing batteries that last more than a few hours, so users need to charge them constantly.
Privacy Concerns
Privacy concerns also have dogged the market. "A number of health clubs have instituted policies that ban clients from using the devices in changing rooms and showers," InStat/MDR's Strother told TechNewsWold. Fearing a compromise of competitive data, corporations likewise have begun limiting visitors' use of the devices.
Interoperability has been a concern as well. Currently, wireless carriers rely on proprietary techniques to send video information from place to place. As a result, a Sprint user cannot send a picture to a Verizon customer.
Yet none of these problems seems significant enough to slow camera-phone acceptance. "With the quality of the pictures improving, the bandwidth available to ship increasing and the prices continuing to drop, we expect sales of camera phones to rise significantly for the next few years," said Strother at InStat, which expects consumers to buy 102 million camera phones in 2004.