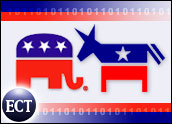 When Phil de Vellis, creator of the "Hillary 1984" mashup video, wrote that "the game has changed," he summed up in four words the virtually earth-shaking revolution that is now changing the nature of the political campaign. Candidates in the 2008 presidential election face a landscape unlike any other in political history, and it's all because of Web 2.0.
"The 'Hillary 1984' video demonstrates that the expertise required to make a powerful piece of video has left Madison Ave.," Micah Sifry, executive editor of the Personal Democracy Forum, told TechNewsWorld. "The other important thing about it was that it spread organically because it resonated. This subverts the traditional political paradigm, where only those with lots of money behind them get to speak to mass audiences."
In this new political world, voters are demanding a higher degree of participation in the process, and the technologies are there to make it possible.
"In 2004 we saw the first stirrings of lateral connections between voters using Internet tools and platforms, and now we're seeing the full flowering of that trend," Sifry said. "Voter-generated content and initiatives are going to be the wild card of 2008."
Time Machine
Indeed, it wouldn't be unreasonable for your average, Internet-weary politician to long for the old days. Back then, political messages were strictly one-way and under careful control. Candidates meticulously crafted their messages and sent them out to a mass audience. The media were expensive and highly polished, with virtually no mechanism for allowing feedback or discussion.
Citizens, meanwhile, were treated as one big, more or less homogenous crowd — they had to be, by virtue of the "mass" nature of mass communications. There was no real reason or means to begin addressing voters on an individual level. Hand-shaking and baby-kissing may have tried to simulate those kinds of personal connections, but when it came right down to it, they were still essentially anonymous and predictable photo opportunities.
"We've spent the last decades in broadcast mode, where the focus was on TV, radio and newspaper, and one message was sent out to the entire public," Julie Barko Germany, deputy director for The Institute for Politics Democracy & the Internet at George Washington University, told TechNewsWorld. "But people don't think that way — they want to have personal connections with the candidates and to speak back on an individual level."
'The Year of Web 2.0'
"If you look back a little bit, you could say that the 2000 election cycle was the year of the Web site, where candidates first felt the need to have a Web site," said Michael Bassik, vice president of Internet advertising at political consulting firm MSHC Partners, which was the Internet advertising agency of record for John Kerry and the Democratic National Committee in 2004. "Those Web sites were fairly static — more of a brochure.
"2004, on the other hand, was the year of e-mail and online fund-raising, and the Web played more of an integral role in the campaign," Bassik told TechNewsWorld. "If not for the Web, candidates like Kerry and Dean would have had a hard time raising money."
In 2006, video began playing a role in political candidates' online presence, Bassik said. That trend continues today, and that brings us to 2008, which Bassik calls "the year of social networking and Web 2.0."
A Shining Example
"Every election cycle, the way the presidential candidates have used the Net has changed and evolved," Germany agreed. "2004 was a huge year for the Internet in campaigns because for the first time people realized you could raise money in a major way online. But they also realized something quieter when they noticed the way Dean had started using Web 2.0 to create a community around himself. Even today we still hear people referring back to that campaign."
There's no doubt Joe Trippi, who managed Dean's 2004 campaign, made history by demonstrating the ability to use the Internet to amass relatively small contributions — US$100 and under — in unprecedented numbers. So breathtaking were those numbers, in fact, that it soon became clear the technique far outshone the abilities of the traditional political fund-raising machine, with its exclusive, $2,300-a-plate luncheons.
Trippi is also remembered as the man who introduced blogging into politics, and who used social networking site Meetup.com to organize thousands of informal gatherings of Dean supporters. In essence, Trippi used the Internet to organize the biggest grassroots movement to date in presidential politics.
"People learned a lot from the Dean campaign," Germany said. "The Bush campaign watched closely and took away lessons that they used with a Republican spin to get people out to vote. The Edwards campaign, meanwhile, took away its own lessons. After Kerry lost, the Edwards people continued to use some of the community-building tools to keep support for the Edwards campaign going."
Where's the Money?
Many of today's candidates are following Dean's example by using the Internet to raise funds. Part of that is done on their own sites, of course — which it goes without saying they all have. But there are also a few newer options.
At ActBlue.com, for example, visitors can contribute to the campaign of any presidential candidate they want — as long as it's a Democrat. As before, most online donations tend to come in small increments, and what's interesting is that the site explicitly embraces transparency in the process. It's like a PayPal for political donations, and the home page lists for each Democratic candidate how many donors have contributed as well as the total funds raised there so far.
Not only that, but visitors to the site can create their own pages to raise funds among friends and family for the candidate of their choice. ActBlue then tracks how many people have donated and how much has been contributed, as well as transmitting the funds and notifying the candidates in question. In just two years, ActBlue has been used by grassroots supporters to raise more than $21 million.
Little wonder, then, that the Republicans are trying to emulate the Democrats' fund-raising success: AbcPac.com now offers a similar way to donate to the campaigns of Republican candidates.
Campaign 2.0, Part 2: Opening Hearts, Minds and Wallets
Campaign 2.0, Part 3: Stumping in Alternate Realities