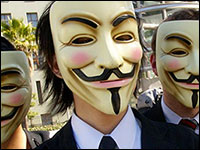 In a YouTube video, the hacker group Anonymous announced plans for worldwide protests against government surveillance for Monday, Guy Fawkes Day.
Canada, however, has a plan of its own.
According to Naked Security, Canada has imposed a ban on wearing masks during riots — including, of course, Anonymous' famed Guy Fawkes masks. People will be allowed to wear masks during peaceful demonstrations, however.
Canadians do have a riot streak, evidenced by the scary scene after the Vancouver Canucks' 2011 Stanley Cup Finals defeat. Those riots, which involved stabbings and police cars being set ablaze, were cited by lawmakers who supported the recent mask legislation.
Violators of the mask ban — which extends to all methods of face-covering, not just the Guy Fawkes masks — could face up to 10 years in prison.
China's Partial Blocking Strategy For GMail
Chinese authorities have implemented a partial blocking strategy for GMail.
According to GreatFire, a Chinese site that analyzes the country's Internet, GMail is blocked in China — but not entirely. For example, one of the four IP addresses used by mail.google.com still works, while three others are restricted.
The logic, according to the post, could be to make GMail users think that Google is at fault — thereby coaxing them to switch over to Chinese providers which "operate under local censorship and surveillance conditions."
GreatFire.org also posits that authorities might be leaving holes in its Firewall so as to avoid a backlash from citizens and businesses that rely on GMail.
GreatFire also points out that the GMail block comes just days before government leaders begin the 18th Party Congress.
Apple in Hot Tax Water
Apple's tax filings show that it paid less than 2 percent in corporation tax on its non-US profits.
According to the BBC, Apple paid just US$713 million this year up to Sept. 29, despite pre-tax profits of $36.8 billion — a rate of 1.9 percent.
Apple joins Facebook, Google, Amazon and eBay in a recent spate of U.S. companies to be scrutinized over overseas tax filings.
Apple funnels a large portion of its European business through a subsidiary in Ireland, which has lower tax rates than the UK and other EU states.
Kim Dotcom Wants to Stick It to US
Kim Dotcom, the founder of file-sharing site Megaupload currently facing extradition to the U.S., has proposed a plan to supply households in New Zealand with free broadband access — funded in part by lawsuits against the U.S.
According to the New Zealand Herald, Dotcom, who is originally from Germany but currently resides in New Zealand, plans to resurrect plans for a cable running from New Zealand to the U.S. The cable, estimated to cost about $400 million, had been proposed before but has never found enough funding.
Dotcom's answer to the funding issues is (a) use money he earns from his new file-sharing endeavour, me.ga, (b) find investors and (c) sue Hollywood studios and the American government in an effort to recoup money he claims they owe him after shutting down Megaupload.
To stir public support, Dotcom said that he would use the mammoth fiber-optic cable to provide New Zealand ISPs with free access to customers while charging a fee to businesses and the central government.
Dotcom's extradition hearing was supposed to take place this year but was pushed back to March in what he claims is an attempt to bankrupt him through legal fees.