Users of Google Maps are already accustomed to relying on the technology for directions to places like the airport or mall, but now they can also use it for help getting around inside once they've arrived.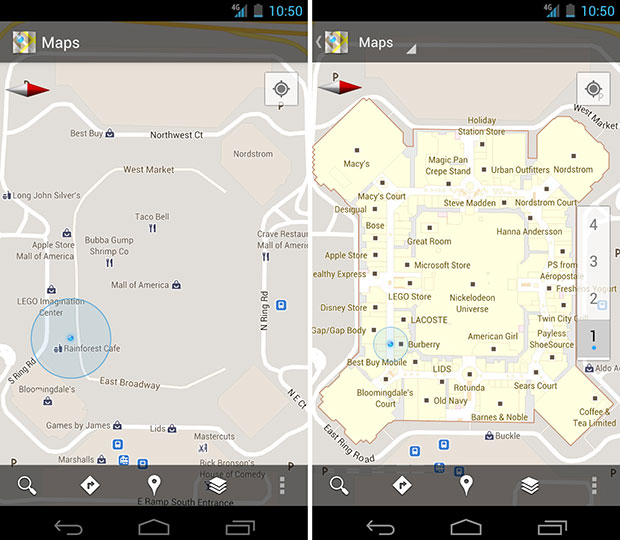 Mall of America in Minneapolis before and after, with a floor selector
Google Maps 6.0 for Android, which was released on Tuesday, now gives mobile users a way to determine where they are inside a large building and how to get where they need to go.
"When you're inside an airport, shopping mall or retail store, a common way to figure out where you are is to look for a freestanding map directory or ask an employee for help," explained Brian McClendon, vice president of engineering for Google Earth and Maps, in a blog post announcing the new capability. "Starting today, that directory is brought to the palm of your hands."
The new feature requires Android 2.1 or later. The video below explains the premise in further detail.
Partners and Floor Plans
To make the new capabilities possible, Google has partnered with a variety of large retailers, airports and transit stations in the United States and Japan, where the new feature is also being rolled out.
Among the retailers whose indoor spaces are currently included are the Mall of America, IKEA, The Home Depot, select Macy's and Bloomingdale's stores, and certain Daimaru, Takashimaya and Mitsukoshi locations. Airports currently include Hartsfield-Jackson Atlanta International Airport (ATL), Chicago O'Hare (ORD), San Francisco International Airport (SFO) and Narita International (NRT), while corporate campuses represented include JR and Tokyu Corporation.
Google has also created an online page business owners can use to add their own floor plans to the service.
The video below illustrates how the functionality is being used at IKEA.
'Should I Eat Now?'
"In large complexes like airports or shopping malls, there is a great utility in finding store locations, bathrooms and escalators," Greg Sterling, founder and principal with Sterling Market Intelligence, told TechNewsWorld.
For travelers in an unfamiliar airport or terminal, for example, a common question is often, "is there a better restaurant beyond security, or should I eat now?" Sterling pointed out.
Similarly, whereas a mall's own directory might show you where the closest bathroom is on the map, for example, "sometimes you don't know if you're heading toward it," he added. "It's useful to be able to see if you're heading in the right direction.
"These are relatively small everyday questions and dilemmas, but having this functionality will add additional value to the app that people will appreciate," Sterling said.
Bing Venue Maps
Microsoft actually already offers something similar both online and in the mobile version of Bing, Sterling noted.
Specifically, Bing has a venue map with floor plans for numerous airports and malls, and — unlike Google's new technology — it's available online as well as to mobile users, he said.
However, Microsoft's implementation doesn't have real-time, dynamic location capabilities the way Google's does, Sterling pointed out.
'Apple Has Been Building Up Assets'
And what of Apple's iPhone? Users of that platform won't be able to enjoy such capabilities, at least in the foreseeable future, Sterling noted, but it won't be surprising if that changes.
"Apple has been building up mapping assets over the last few years, so I'd expect at some point they'll offer a product," he said. "This may prompt them to do something along those lines."
Indeed, the floor plans that Google's partners have provided it with could, at least theoretically, be delivered to Apple at some point as well, he explained. The newly precise triangulation capabilities, meanwhile, could likely be emulated by Apple as well.
'Keep Your Enemies Closer'
"Now that Jobs has passed, maybe Apple will be a little more open to good business partnerships such as the use of Flash and less concerned with vendettas," Lon Safko, social media entrepreneur and coauthor of The Social Media Bible, told TechNewsWorld.
In fact, "if I were Apple, I would try to find a way to 'partner' with Google on Android," Safko added.
"You know what they say: Keep your friends close and your enemies closer," he explained. "By partnering, they eliminate Google as a competitor" — an especially compelling prospect "now that the Android is outselling the iPhone."
Mobile Shopping Possibilities
In any case, looking ahead, the most enticing possibilities for the new indoor mapping technology involve advertising support, Sterling suggested.
"I could imagine over time you'd see things like images of product inventory or deals associated with particular stores," he predicted.
It's also likely that Google will eventually move the functionality beyond the Android version to Google Maps online, where the heaviest usage remains, said Sterling.
"I think Google wants to build up enough high-quality floor plans before it goes online," he explained.
'No Future Plans to Announce'
In the meantime, Google isn't giving away any of its future plans.
"We hope this will help users orient themselves indoors and see what's around them while on the go, but have no future plans to announce regarding additional platforms or advertising integration at this time," company spokesperson Deanna Yick told TechNewsWorld.