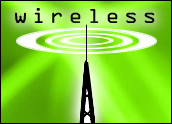 Mobile phones are supposed to make it easy for individuals to move from place to place while staying connected to important people and information. Sometimes, however, cellular networks do not deliver on that promise, especially when a user walks inside a building.
Alleviating that problem is one reason that cellular carriers are looking to augment their services with wireless LAN (WLAN) connections. "The integration between WLANs and cellular networks is a high priority for all of the top cellular service providers," said Allen Nogee, an analyst with market research group In-Stat/MDR.
Carriers believe the emerging service offers them a number of potential benefits, starting with lowering their equipment costs. Cellular network equipment can cost five to ten time more than WLAN devices. "WLAN/cellular deployments provide carriers with opportunities to reduce their operational costs by offloading traffic from their cellular networks to WLANs," noted Clint Wheelock, vice president of wireless research at The NPD Group.
Better coverage is another benefit from the new services. In many cases, users are not able to access information once they walk into a large building, a particularly vexing problem in metropolitan areas. Here, the framing and materials used to support large buildings disrupt, and in some cases, sever, cellular links. WLANs offer carriers the ability to provide denser coverage in these locations.
The Constant Churn Challenge
WLAN/cellular integration may also help carriers address the problem of churn, or, customer turnover. Currently, carriers find that as much as 20 percent of their customers switch each year; the constant turnover drives up their operating expenses and makes generating accurate sales projections a difficult task. "Carriers hope that the conveniences that WLAN/cellular integration offers will make customers more willing to retain their service," In-Stat's Nogee told TechNewsWorld.
The convenience starts with being able to move from outside to inside and vice versa without encountering dropped calls. Also, users would need only one handset, rather than two, to access their enterprise WLANs and the cellular network.
While reducing churn is helpful, carriers' focus is on making money, but how lucrative the converged services will be is unclear at the moment. That's because no one is certain about whether carriers will charge for the service or bundle it in with their monthly service fees. Charging for them would simplify the cost justification process, but it could deter users from working with the services. Bundling them would encourage usage but may not be cost effective. Noted Ira Brodsky, president of market research firm Datacomm Research Co., "In fact, some carriers fear that WLAN services will cannibalize their mainstream mobile voice services."
While WLAN services are much less expensive than cellular network connections, they still come with a cost, so cellular suppliers need to make investment in order to offer the converged services. These services providers are augmenting their networks in different ways. T-Mobile USA has been aggressively building out its own WiFi network and then developing links between it and the firm's cellular network.
Other carriers turned to WLAN partners in order to develop the service, for instance Vonage Holdings and Nextel have partnerships with Boingo Wireless, which operates 18,000 hotspots worldwide.
Making the Handset Design Workable
Another challenge stems from wireless handsets. Traditionally, a user has had to carry two phones: one for the WiFi network and another for the cellular one. Devices that work on both networks have started to trickle into the marketplace.
The handset vendors face a couple of technical challenges. "Manufacturers need to develop handsets that don't drain their batteries too quickly when they operate in WiFi mode," Datacomm Research's Brodsky told TechNewsWorld.
The devices also must be able to hand a cellular call to a WLAN and vice versa. Standards have emerged that support such functionality but many of the handset vendors will need time and must exert some effort in order to incorporate that support into their devices.
A few vendors are already selling such products. Motorola Inc. developed its integrated CN 620 handset and positioned it mainly for corporate use. UTStarcom has made its F1000 handset available to US consumers. There is one problem with the first generation devices: "WLAN/cellular handsets now carry very high price tags, about $1,000 or more," said In-Stat's Nogee.
Eventually, that should change. VoIP handset vendors, such as Fujitsu Laboratories, NEC, and Toshiba America are developing new integrated systems. They will be competing with cellular suppliers, such as Ericsson and Nokia Networks, who are also moving into the market.
The Back Office Blues
The new services also raise a variety of back office questions for telecommunications service providers. "Telecom operators will have significant challenges to overcome to implement billing and operational support systems that are flexible enough to support true roaming between wireless LANs and cellular WANs," noted The NPD Group's Wheelock.
Even when they build out their own WLAN networks, cellular carriers will have to figure out how to monitor the interplay between the two networks. As users move from cellular networks to WLANs, one carrier gains minutes and another one loses minutes. Not only do they have to figure out how — and if — will customers be charged for those minutes but they also have to determine how to compensate one another.
Behind the last item lurks a potential battle for customer control. "The mobile operator will own the customer relationship in a converged WiFi/cellular world — the role of wireline carriers and VoIP pureplays will be limited, if at all," predicted The NPD Group's Wheelock.
Because so many issues are still outstanding, adoption of these services is expected to be a long term rather than a short term phenomenon. "Movement to WLAN/cellular services will be an evolution, not a revolution," The NPD Group's Wheelock told TechNewsWorld.