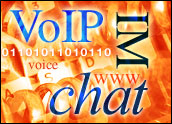 Telecommunications carriers clearly see the future: Voice over Internet Protocol (VoIP) services. This technology enables them to roll out high-speed multimedia services to consumers and businesses faster and at a lower cost than traditional Public Switched Telephone Network (PSTN) services. While those features are alluring, the carriers are struggling to put the infrastructure in place that is needed to support VoIP.
After years of hyperbole, VoIP finally seems to finally be making its way out from serving the techies to becoming a widely used consumer service. Market research firm The Yankee Group expects 800,000 U.S. residents to rely on VoIP by the end of 2004 and predicts that number will jump to 10 million individuals by the end of 2007.
In fact, a wide — and rapidly growing array — of carriers are rolling out VoIP services. Established vendors AT&T, Cablevision Systems, Qwest Communications International, Time Warner and Verizon Communications have joined VoIP specialists like Net2Phone and Vonage Holdings in offering these services.
"When you see companies like AT&T and Verizon announcing VoIP services, then there is no doubt that the technology has matured," said Brian Washburn, a senior analyst at market research Current Analysis. "These are not the type of companies that usually do a lot of experimenting with new technology." Other vendors, such as America Online, are reportedly readying their own VoIP services.
Other Services
Carriers find VoIP appealing because it runs on a data foundation (relying on specialized computers dubbed softswitches) so it can be easily bundled with other services, such as broadband Internet access or video connections. In addition, VoIP devices have a modern design and are easier to deploy and maintain than PSTN switches, which are large and cumbersome.
But such benefits come at a price. Deploying a VoIP service can be a relatively easy task for carriers, but maintaining and monitoring the service presents quite a challenge. The problem comes from the back-end infrastructure, network connection points and billing systems.
"The interfaces needed so usage data (which end users are accessing the network and what services they are using) can pass from one carrier's network to another carrier's network are not as well defined for VoIP networks as they are for PSTN connections," said Paul Hughes, a director at The Yankee Group.
The challenges start with simply making the connection. PSTN connection point interfaces have been well defined. A carrier can simply unplug a port on one device, plug it into another switch, and the customer is up and running.
Such provisioning is more complex under VoIP. It requires not only setting up the customer account and assigning a phone number, but also accounting for dynamic IP address assignments that must be mapped to the customer's permanent telephone number every time a VoIP session is initiated.
Area Codes
In some cases, the customer has multiple IP addresses, which adds to the provisioning complexity. Another challenge is that some VoIP providers let their subscribers pick their own area codes, regardless of where they live or do business, so an Oklahoma-based enterprise, to increase its cachet, might request a Manhattan area code.
Also, VoIP customers have more flexibility than PSTN users in starting a session: the former can access the network through different devices — cell phones, PCs and SIP phones. As a result, a carrier has to identify those devices and the telephone numbers that are assigned to the customer.
The carrier also has to track what services the customer is using; that is difficult because there can be more than one option. If the customer makes a conference call with VoIP, he can run voice and data at the same time via a multimedia PC.
Typically, the person relies on a variety of enhanced services, such as call waiting and conference calling, which also have to be mapped to the telephone number, IP address, and end user device.
Traditionally, carriers have tracked such information in discrete records, dubbed call detail records (CDRs). Central office switches collected this data and passed it along to various network connection points. The task is not as simple in a VoIP network. The traditional CDR format does not mesh with VoIP networks, which have more variables and support a broader array of variables than PSTN networks do.
Proprietary Products
To date, carriers and network equipment providers have solved this problem by developing proprietary products that collect such information. Carriers, such Net2Phone, have deployed these items on their own networks and controlled the flow of information from start to end. As a result, they can call to collect the necessary call detail data.
As more carriers deploy VoIP services, the desire to interconnect their networks has become clearer, and therefore the need to exchange information is growing. Carriers could work individually with one another to develop formats to exchange data, but the task would be tedious and time consuming.
Standards would ease the process, and carriers have been developing them. Groups, like the Internet Protocol Detail Record (IPDR) Organization, have developed items, such as Network Data Management-Usage (NDM-U) specification, so carriers can pass call detail information to one another.
To date, the standard has not garnered much acceptance. "I don't know of any major carrier that has required its equipment vendors to support the standard," said Dan Baker, director of OSS research at market research firm Dittberner Associates. Part of the reason is the initial versions of the standards were complex and difficult to implement. Vendors have tried to address the problem in subsequent releases, now up to version 3.0, but there are still no signs of impending acceptance.
In fact, carriers are opting to skirt the problem altogether. Rather than monitor and charge customers for each call, most carriers are offering users unlimited services.
Bulk Services
"Because of the success of calling plans seen in the wireless market, carriers are moving away from traditional minute-based billing plans and focusing on bulk services," said Current Analysis' Washburn. Customers benefit because they do not have to worry about any unwelcome surprises in their monthly phone bills. Carriers like the idea because they do not have to put the complex infrastructure in place needed to track each call.
However, there may be one downside with unlimited services: an inability to turn a profit.
"My sense is most VoIP carriers are now focusing on building up their customer bases and plan to figure out how to turn a profit on their services as the market evolves," Dittberner Associates' Baker told TechNewsWorld.
Many telcos followed a similar strategy during the Internet boom, and the results, at best, were mixed, with many carriers never reaching the point of profitability. Whether or that will change will VoIP services is expected to become clear in the next few years as these services move into the mainstream.