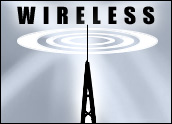 Hitachi, Motorola, Samsung, Sharp and Sony have joined forces with Amimon, a developer of wireless home digital interface (WHDI) technology. The companies have pledged support for the creation of a new interoperable industry standard for audio, video and control that could connect multiple high-definition devices around a home without the use of wires.
The group's goal is to enhance the current WHDI technology in order to enable wireless streaming of uncompressed HD video and audio between consumer electronic devices, including LCD (liquid crystal display) and plasma TVs, multimedia projectors, audio/video receivers, DVD and Blu-ray disc players, set-top boxes, game consoles and PCs.
The CE consortium intends to complete the WHDI standard by the end of 2008. When finalized, it will join several other standard technologies — such as WirelessHD and ultra-wideband (UWB) — competing in the market to become the predominant wireless audio and video in-home transfer technology.
Adding one more technology to the mix can be both good and bad for the nascent market, said Brian O'Rourke, an In-Stat analyst.
"It helps in that it makes more people aware that there are ways to transmit video wirelessly, but it hurts in that there's no single standard everyone has agreed to," he told TechNewsWorld.
Network Transfers
WHDI and similar technologies allow users to transmit video signals wirelessly. Companies developing and backing the technology are betting that wireless signal transmission is the "next frontier" in the consumer electronics and PC markets, said O'Rourke.
"Things like WHDI and particularly WirelessHD can transmit data much faster than anything that is on the market now. We're talking about potentially being able to transmit an HD movie from a set-top box to a digital television," he explained.
The technology is fairly risky, however.
"If you're attaching two things with a wire, your signal is going to get through. It's not going to degrade," O'Rourke said. "It's not going to be interrupted. When you do it wirelessly, there is always a risk because there are interference factors and range issues that need to be taken into consideration. It is inherently risky to transmit things wirelessly."
Amimon's WHDI technology operates at 5 Ghz (gigahertz), the same bandwidth as WiFi. WirelessHD, on the other hand, operates at a higher 60 Ghz frequency. With WirelessHD's technology, the wavelengths are shorter, which means it could potentially transmit much more data, but the trade-off for faster transfers is an even greater chance of interference.
WirelessHD technology is the only true lossless uncompressed wireless high-definition technology for the market, according to Lianne Caetano, executive director of WirelessHD.
"60 GHz technology allows incredibly fast transfer of huge amounts of data — 4 Gbps (gigabits per second) actual throughput now; up to 25 Gbps in the future," she told TechNewsWorld. "Amimon's chipsets and their WDHI standard operate at the 5 GHz frequency, allowing greater range — however, at lower quality due to bandwidth limitations of the 5 GHz band."
However, WHDI is still the better technology now, said In-Stat's O'Rourke, "because it is based on, at least partially, WiFi technology, which is very proven — but they can't transmit the same data rates that 60 GHz can."
Building an Industry
The challenge for players in this market is interoperability, said Joshua Martin, a Yankee Group analyst. There are competing standards on so many different levels, including home automation, wireless HDMI (high definition multimedia interface) and wireless audio. The glut of technologies and standards may confuse many consumers about what is available and whether they work together.
"This is still a very early stage market, and part of the issue is that [original equipment manufacturers] are trying to see what works and doesn't work, and who they want to partner with in the long term — if they want a partner at all," he told TechNewsWorld.
Right now, Amimon is the only company that makes WHDI chips, according to O'Rourke. With this consortium, Amimon is trying to create a market for its technology, bring other semiconductor makers on board, and make an industry-wide standard.
"Industry-wide standards tend to succeed while proprietary standards do not. So, they need to get other chip companies on board and also consumer electronics makers," Martin pointed out.
The addition of another standard is "a positive sign that wireless high-definition audio/video is growing in interest and potential on a worldwide level," WirelessHD's Caetano said. "Having many wireless high-definition options and technology is a sign of marked progress and innovation in the field, ushering in the era of wireless HD.
Each standards addresses different consumer needs, she noted. "Amimon is addressing whole home coverage, much like 802.11n, MOCA, Ethernet, etc., to move content around the home. WirelessHD provides the highest quality audio, video and data delivery for in-room operation and includes A/V controls to allow users to simply set up and manage their wireless video area network with a single remote control."