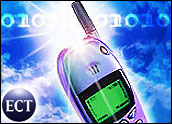 Advertising is a highly competitive market with corporations constantly searching for an edge. As a result, select firms are now trying to reach customers via a new medium: cell phones. "Companies are using text messages to notify customers of special deals and banner ads to sponsor items, such as ring tone downloads," noted Julie Ask, research director at Jupiter Research.
A few factors are driving the interest. Increasingly, cell phones are becoming more data oriented and PC-like. Consequently, there is now space that advertiser can use for marketing. "Cell phone screen size is certainly not optimal but it does provide companies with room to advertise their wares," said David Chamberlain, senior analyst at market research firm In-Stat.
In addition, cell phones are quite popular among a prime advertising demographic: youth, including college and high school students. Many college students have abandoned wired connections for wireless ones, and a survey by The American Advertising Federation (AAF) found that 69 percent of high school teens own cell phones. The youth market tends to be quite interested in products with short life cycles, such as music and movies. These products generate a lot of advertising because companies need to quickly create a buzz as new products arrive.
Good News, Bad News
Yet advertising can be a two-edged sword. While it can create interest in a product, it can also generate a negative message. Pop-up advertisements represent one area where companies found the medium hurt rather than helped brands. Because little is known about the impact of cell phone advertising, vendors are moving cautiously. To date, the market is sending a mixed message.
At least initially, only a few consumers are embracing the idea of cell phone advertising: an In-Stat survey found that four out of every five users opposed the idea. The group supporting cell phone advertising seemed open to letting advertisers subsidize the cost of premium services, such as directory assistance, ringtones and messaging. High prices are often a reason why users do not rely on these premium services, so having advertisers partly underwrite the cost would seem to benefit users and advertisers alike.
With the market beginning to evolve, companies are searching for the most effective advertising vehicle. Banner advertisements are one possibility. "I don't think banner ads will be too effective because of the cell phone's small screen size," said Bob Egan, service director, emerging technologies at market research firm The Tower Group Inc.
Location-based advertising is another area that may have to struggle for acceptance. Here, carriers couple Geographic Positioning Systems with cell phones, so cellular networks can track user movement. As consumers pass various locations, they receive unsolicited advertisements, for instance, a local restaurant could send potential customers text, graphic, or video messages about a daily special as the users passed by.
Sign Me Up
Opt-in advertising services, where consumers sign up for advertising about items that interest them, seems likely to gain traction. "Customers do seem open to receiving mailings about a band's album or next concert," In-Stat's Chamberlain told TechNewsWorld. Sports and celebrity news are other areas where such advertising seems acceptable.
Past experiences may be one reason why users are leery of cellular advertising. Along with useful advertisements, for instance, have come boatloads of spam. "Many users are concerned about how many spam messages will make their way to their cell phones," The Tower Group's Egan told TechNewsWorld.
Spam may be even more unwelcome in cellular networks than it is in data networks. Depending on users' calling plans, they may have to pay a few cents whenever they read such messages.
Spam Filtering Needed
As a result, cellular providers may need to put anti-spam measures in place like those that Internet Service Providers use for data services. "Cellular carriers may find that users will be canceling their contracts and moving to other services if they can not control cellular spam," noted In-Stat's Chamberlain.
Spam overruns are a future rather than a present concern; currently, most of the cellular advertising campaigns are at a nascent stage. "We've seen a few interesting pilot programs and special promotions but no advertiser has yet allocated a lot of money to cell phone advertising," Jupiter Research's Ask told TechNewsWorld. There is interest in such possibilities, and companies, such as Enpocket, Martix Mobile Marketing, M-Qube Inc., and Texting Now are focused on helping companies deliver their marketing messages via cell phones.
These firms have generated some promising early results. Enpocket claims that 15 percent of users respond when they get text-message ads, and that number is twice the level of direct mail advertising.
The high response rate coupled with the significant research required because cell phone advertising is so new has resulted in expensive rates, at least initially. Marketing companies are charging between 10 and 35 cents each to send text messages to cell phone users, a rate 25 to 50 percent higher than billboard, radio, and television advertising.
Some companies are willingly paying the extra fees. The medium has been more popular abroad than in the U.S. In Europe, text messaging has been quite popular for a number of years. In Asia, especially Korea and Japan, cell phones are commonly used to complete mobile commerce transactions.
How big the cell phone advertising market will become in the U.S. is unclear. Andrew Robertson, CEO of BBDO ad agency, the third-largest in the world, expects cell phones to become larger than television advertising, but not everyone agrees with that statement. "Television advertising still accounts for 85 percent of advertising dollars spent in the U.S.," concluded In-Stat's Ask. "Even if cellular advertising is quite successful, it will take many years for it to approach the volume of revenue that television advertising generates."