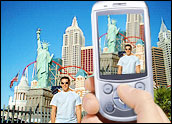 Startup cellular carriers are beginning to view the United States' immigrant population as an underserved market. "Carriers have done a good job in penetrating most adult demographics, so they are now searching for niche groups that don't rely on their services," said Marina Amoroso, an industry analyst with market research firm Yankee Group.
With cellular market penetration well past the 100 million mark in the U.S., underserved markets have become difficult to identify. A new set of carriers, dubbed Mobile Virtual Network Operators (MVNOs), are emerging that target select groups and develop special services for them. Carriers such as Movida Communications, PowerNet Global, TracPhone Wireless and Uphonia are MVNOs building businesses that cater to immigrants.
Immigrants represent an intriguing segment for a number of reasons. The most obvious is they are a substantial group. The Center for Immigration Studies estimates that there are 33.1 million legal and illegal immigrants — which equals 11.5 percent of the U.S. population — in the country, and that number is increasing by 1.3 million each year.
Service Problems
Typically, these individuals need a phone of some kind. "Immigrants want to keep in contact with relatives and friends that they left behind, and the easiest way to do that is by phone," said Neil Strother, an industry analyst with market research firm The NPD Group.
These consumers often encounter problems getting phone service, however. In some cases, carriers require that customers wait six months before they make international calls. This may be a sound business practice — they want to prevent criminals from using fraudulent accounts and running up large bills — but a frustrating requirement for homesick transplants.
Immigrants also often find it difficult to qualify for some wireless services, where vendors require contracts of six months, one year or two years. "Because they have no credit history, immigrants are unable to sign up for most cellular plans," said David Chamberlain, senior analyst at market research firm In-Stat/MDR.
The MVNOs skirt these problems by offering prepaid calling services. Since customers pay before using any services, prepaying allows them to avoid issues such as running up large bills or needing time to establish a credit history.
As the immigrant-targeted services come online, the question arises: Will they attract enough customers to be successful businesses? Since the MVNO model is new, it represents a pittance of the current wireless market. There were about 8 million MVNO subscribers in the U.S. at the end of 2004 who represented 5 percent of the total wireless market, according to the Yankee group. "A few MVNOs have attracted a million or more users, but most have only a few hundred thousand customers," noted Yankee Group's Amoroso.
Risky Strategy
Initially, the immigrant MVNOS are focusing on the Hispanic population, which numbers about 40 million in the U.S. TracPhone is a subsidiary of America Movil, a Latin American wireless supplier, and offers low cost calling to Latin American countries. PowerNet Global also focuses on international calling and enables customers to place direct-dial international calls without requiring any special numbers or access codes. Movida offers customers regional news programming, Latin American soccer scores, Hispanic celebrity news and gossip, plot summaries of favorite Hispanic soap operas, home country news alerts and even a 'Patron Saint of the Day' service.
At the start, these services are limited to certain areas. "Carriers have been focusing on places where there is a large number of immigrants, such as Texas, California and the Southwest," In-Stat's Chamberlain told TechNewsWorld. The services also are available in large cities, such as New York and Los Angeles, but not yet in suburban areas.
For now the MVNOs are limiting their market presence because the businesses can be risky and profitability may prove to be elusive. Even though immigrants make international calls, their average monthly bills are expected to be lower than those of most cellular subscribers. Churn — movement from one cellular company to another — is also a potential problem.
Since customers do not have set contracts, they can — and probably will — switch from carrier to carrier in search of better prices. "Immigrants tend to be more mobile than the rest of the population, so carriers may find it difficult to establish recurring revenue streams," NPD Group's Strother told TechNewsWorld.
Not Enough to Go Around
Consequently, not all MVNOs will succeed. "I think only a couple of immigrant MVNOs will have large enough customer bases to remain in business long term," stated In-Stat's Chamberlain.
To reach that status, carriers may focus on acquisitions. Offering these services to other immigrant groups is also a possibility. "In cities like Los Angeles, we are seeing some interest in the Asian population," Yankee Group's Amoroso told TechNewsWorld. Eventually, a carrier or two may emerge that focuses on wireless services for all immigrant groups.
Even if MVNOs garner millions of subscribers, they still may not be financially secure, since competition is bound to move in. "Carriers have done a very good job in figuring out how to market and support their services to different groups," noted The NPD Group's Strother. "If an MVNO segment becomes large, I expect established vendors to aggressively move into it."
Yankee Group is more optimistic: it expects the number of MVNO subscribers to grow to 29 million and account for 14 percent of the wireless market by 2010. "It's a little early to determine which MVNOs will be successful and which will not, but I expect at least a couple developing services targeted at immigrants to survive," concluded Yankee Group's Amoroso.