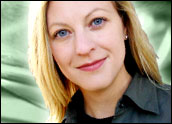 Chipmaker Intel said this week that despite its record US$10.2 billion in revenue for the third quarter, the company is worried that the global economic crisis will affect future performance. Despite such a general malaise across the industry, however, there is some very good news on the tech front.
Buried under the cloud of economic fears, bandwidth prices for backbone transit are declining across the globe. For instance, as Ryan Radia from the Competitive Enterprise Institute has pointed out, "In San Francisco, the price per mbps of Gigabit Ethernet transit has dropped 38 percent in the past 12 months. Developing countries are also enjoying substantial price cuts in 15 to 20 percent range."
This means that the high-speed commercial data services that we all rely upon are getting cheaper, which may also give a boost to the growing Internet video industry. And it's not just electronic data services that are dropping in price.
Human Source Code
Perhaps one of the best pieces of news overshadowed by the economic crisis was the announcement by Mountain View, Calif.-based Complete Genomics that it is able to sequence an entire human genome for $1,000 in material costs, and will sell it for $5,000 to cover its labor and other costs.
Considering that the first Human Genome Project cost roughly $2.7 billion and, just last year, it cost about $2 million to sequence James Watson's genome, this massive decline in price is a huge technological leap that will have transformative benefits for all human beings.
The genome is like the source code for humans, and its cheap sequencing for individuals will kick-start a real revolution in personalized medicine.
Before everyone's focus shifted to the globe's long-brewing financial instability, Linda Avey, cofounder of genomics company 23andMe, was cited by numerous outlets as saying that advances in the biotech industry were moving faster than Moore's Law.
Of course, when one considers Intel's announcement that they are worried about future production due to "insolvency of key suppliers resulting in product delays" and "inability of customers to obtain credit to finance purchases," one might argue that Moore's law could itself be threatened by the crisis.
It's true that the economic environment and its underlying incentive structures affect everything people do. When government regulators and policy makers don't act to fix systems that incentivize bad decisions, such as the banks that were making overly risky loans, everyone suffers.
Stronger Survivors
The technological advances described above were happening as the crisis was already in full bloom, so can we expect any more good news going forward? How much will the economic crisis put a damper on technology development — a sector that produces real and sustained value for America?
"There is no better time to start a company," argues Internet entrepreneur Fabrice Grinda, CEO of OLX, an international listing of free online classifieds. Grinda, who has founded three companies and made millions of dollars, sees a silver lining for those in the tech industry. His logic is based on the economics of opportunity cost.
That is, since many high-paying jobs have disappeared and employment opportunities are shrinking, the opportunity cost of taking a gamble on starting one's own business is lower. Of course, there is the nagging problem of raising money during a credit crunch, but Grinda maintains that less capital can actually help solid companies, as they have fewer competitors and thus less noise to drown out when establishing themselves.
This may be reminiscent of the argument that broken windows create jobs, but it can also be seen as the "tough times make for stronger survivors" approach. In any case, his argument does offer hope to those in the tech sector who think the world is about to end.
An economy in crisis is never a good thing, and many fundamentals need to be re-evaluated. That should not obscure the good news on technology. Entrepreneurs with strong spirits have a new environment in which to make things happen, and they are.
---
Sonia Arrison
, a TechNewsWorld columnist, is senior fellow in technology studies at the California-based
Pacific Research Institute
.
---