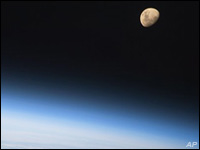 China has launched a rover that is en route to the surface of the moon, marking the first time the Middle Kingdom has embarked on a moon-bound rover mission.
The rover, called "Jade Rabbit," is affixed to a rocket that launched at 1:30 a.m. Monday morning local time. If all goes to plan, it is expected to land on the moon in mid-December.
China has had two lunar orbit missions, but it has yet to touch down on the surface of the moon. The nation is reportedly planning manned trips to the moon one of these days.
[Sources:Tech In Asia;Xinhua]
Dutch Accuse Google of Breaking Data Protection Laws
Google is and has been violating Dutch privacy laws, according to the Netherlands' privacy watchdog, the Dutch Data Protection Authority.
After a seven-month investigation, the DPA concluded that Google's practice of combining data on users across the company's different services — Gmail, YouTube, etc. — is in breach of national law.
Google didn't clearly specify for what purpose it was collecting data, the DPA said. Dutch law does indeed allow for individuals' info to be gathered, but only for a particular purpose — something Google didn't clarify, according to the DPA.
Google, which overhauled its privacy policy in March of 2012, insists that its privacy policy adheres to European law.
France, too, is annoyed with Google's cross-platform data collection.
[Source:BBC]
Snowden Doc: Australia Down to Share Info
Australia's surveillance agency offered to share information about citizens with its intelligence allies, according to a document leaked by Edward Snowden.
The revelation is noteworthy because Australian intelligence was apparently willing to dish info without acknowledging certain privacy constraints adhered to by other intelligence partners. (The document shows that Canada, for instance, was less gung-ho about the information swapping.)
The secret document, from 2008, shows that "to some extent at least, there is warrantless surveillance of Australians' personal metadata," according to The Guardian, which has been at the forefront of all things Snowden since the leaks began in June.
[Source:The Guardian]
Beijing Pleased With Its Web Cleansing
Chinese officials say that their crackdown against online rumors, negativity and anything else deemed uncouth has been successful.
Curiously invoking air pollution, something China has had ongoingproblems with, the nation's vice minister of the State Internet Information Office, Ren Xianliang, told foreign reporters that "the sky of the cyberspace has cleared up now because we have cracked down on online rumors."
The crackdown — which set stiff penalties for social media posts that were viewed 5,000 times or re-posted 500 times — resulted in dozens of arrests and, according to an Internet opinion study, may have prompted a decrease in microblog use among opinion leaders.
[Source:The Associated Press]
Vodafone Iceland Hacked, Info Posted
The customer records of nearly 80,000 customers of Vodafone Iceland were hacked and posted online, meaning about 25 percent of the 320,000-person nation could have been affected.
The hack was noticed Saturday, according to Icelandic media, and was purportedly executed by Turkish hackers. Vodafone acknowledged the mess on Sunday but denied reports that personal data such as bank account numbers and passwords had been divulged.
The info that was hacked and published reportedly comes from 2011 and contains private correspondences between Iceland politicians, who had some rather blunt things to say about the nation's prime minister.
[Source: ruv.is via The Register]