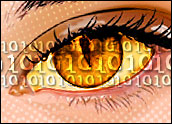 For TV networks, a presidential election isn't just a chance to report history-making news. With so many millions of people watching, it's also a chance to show off new technological toys. On Tuesday night, CNN unveiled its new psuedo-holographic imaging technique reminiscent of the "Star Wars" movies.
During its election night broadcast, the cable news network "beamed" correspondent Jessica Yellin — or at least an apparent 3-D image of her — into the Atlanta, Ga., studio from her location inside a tent in Chicago's Grant Park for a virtual appearance with host Wolf Blitzer. Later in the evening, the news channel performed the same trick with hip-hop performer Will.i.am during an interview with Anderson Cooper.
Although the two virtual visitations might appear to be a fulfillment of technology previously only seen in science fiction, it wasn't exactly a true holographic presence, according to Dr. Paul Debevec, associate director of Graphics Research at the University of Southern California Institute for Creative Technologies.
"I saw both segments. The term 'hologram' is used in the 'Star Wars' movies for basically this kind of live, three-dimensional virtual teleconferencing system they use all the time," he told TechNewsWorld. "In that sense, using the movie definition of holograms, it's a little related to that."
Step Toward the Future?
To accomplish the illusion, CNN reportedly filled a room with around 44 motion capture cameras and 20 computers.
The cameras were arranged in a 360-degree circle in order to capture Yellin and Will.i.am from all angles. That data was processed by graphics software similar to technology used by Hollywood special effects artists which synchronized the angles and movements of the two interviewees to provide what appeared to be a 3-D image.
However, the hologram effect CNN used was not a real hologram because it only appeared as though Blitzer and Yellin were in the same room to the network's viewers, said Debevec. Neither Blitzer or Cooper could see Yellin or Will.i.am in the studio. They could only see them on a 37-inch plasma screen that had been placed in their line of sight to prevent them from strolling into the area where the two "holograms" were supposed to be.
The "Star Trek"-style "beaming in" and "Star Wars"-esque blue aura surrounding the images was just a bit of razzle dazzle added in, Debevec explained.
"The way they captured Will.i.am and Yellin in Chicago and transmitted it, and the camera view point — all of those pieces have not been put together before. All of the pieces filming with HD cameras in a 220-degree arc around the person, camera arrays that shoot people from all different angles have been assembled before," Debevec said.
What was novel about CNN's presentation was the way the network put together the various technologies to provide views from multiple angles. The technology they used sees two similar images of a person based on input from two cameras separated by about 10 inches. They were able to generate live in real time the image between those cameras, according to Debevec.
"[The technology] is able to track the motion of the camera in the CNN studio and transmit that camera motion data to Chicago so that it can brew up just the right view of the person so the angle matches. That's what in the final broadcast they overlay over the tiny red dot on the floor so that it looks like [what] they are seeing here as the camera moves around. We have not seen that in a live broadcast, and that's what is pretty cool," he said.
The CNN "holograms" were perhaps closer related to another technology known as "Pepper's Ghost," said Sam Moree, assistant professor at the HoloCenter Center for the Holographic Arts, told TechNewsWorld.
"They used it because it seems like its holographic. Pepper's Ghost is what they use for teleprompters, and it appears from the point of the speaker as though it is in space. It's an old technique they've used at [Disneyland] for the Haunted House. It's a piece of glass at a 45-degree angle. The person will appear in 3-D, but it's not a hologram," he explained.
Telepresence in the Boardroom?
True holograms that are visible to those in a meeting room — not just those watching the interaction on TV — are not far away, said Debevec.
"Right now, 3-D displays are rather small — five inches right now — but in the next year or two we're actually going to be able to do full human-scale displays, and the hologram is actually possible," he said.
Debevec hopes that his research team will be able to develop the technology.
"We need to project images onto a spinning display surface that reflects images to people in a circle. We spin that pretty face and project images at 5,000 frames per second out of video projector. People see it as though it was present in front of them," he explained.
These true holograms, visible to all present in the meeting room, could also be able to see the meeting participants on their end using a video screen.