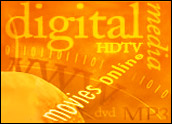 Home networks have become relatively commonplace and now are following a trend similar to one found in business networks: creating ways to fulfill a need for higher speed. Because users are now working with more high bandwidth video transmissions, they are on the lookout for new network options to support that need.
The Multimedia over Coax Alliance (MoCA) option, which uses coaxial cable television lines to support these transmissions, has emerged as an early leader in delivering high-speed home networks.
Carriers and cable television providers are taking a close look at the technology. Many have integrated their voice and data services onto a common network transport and now want to bring video transmissions into that equation but they find that this can be a challenge. While data transmissions typically use at most a few megabytes of bandwidth, emerging video transmissions, such as high definition television, need many multiples of Mbps worth of bandwidth.
MoCA supporters, including 2Wire, Motorola, Westell Technologies and Verizon, designed a standard so consumers can use coaxial cable to move video information from device to device at speeds up to 270 Mbps. The group has made significant progress: an initial version of the specification was approved in February 2006, and more than a dozen vendors have had their products or services certified as MoCA-compliant.
As service providers examine their home networking options, they are finding that MoCA has a few attractive features. The first is its high speed 270 Mbps of bandwidth, sufficient for supporting home video applications.
The Ubiquitity of Coaxial Cable
In addition, coaxial cable has become quite common in the U.S. "More than 80 percent of U.S. homes have coaxial cabling, and it is often found in the rooms that users would want to string their video connections to: the family room, bedroom and home office," said Kurt Scherf, vice president at Parks Associates.
As a result, the coaxial networking option has been gaining ground in the home. "MoCA has seen some key design wins and rollouts in the IPTV space during 2006," noted Michael Wolf, principal analyst of digital home and multimedia for ABI Research. Vendors such as Motorola, ActionTec Electronics and 2Wire have all integrated MoCA silicon into their set-top boxes and gateways.
Consequently, carriers such as Verizon have begun to offer MoCA-compliant services to their customers. "Verizon's backing of MoCA was unexpected and gave the technology a big boost," Scherf told TechNewsWorld.
WiFi Casts a Large Shadow
While making progress, MoCA is facing off against a number of competitors on the home networking front, however. WiFi has been the dominant method of building home networks because these products have been inexpensive, easy to deploy and popular among vendors and resellers. Vendors such as Ruckus Wireless, for example, are trying to position WiFi as the best home video networking alternative.
While there has been some interest in using WiFi to transport video in Europe, it has some limitations in this area. Reliability is one concern. The further away one moves from a WiFi access point, the more a video signal degrades. Video transmissions are much more susceptible to transmission problems than data transmissions. Devices such as cordless phones operate in the same band as wireless LANs and can create contention problems.
In addition, WiFi's current top speed of 50 Mbps may not be adequate to support video transmissions and the networking option has lacked Quality of Service (QoS) functions, which ensure that bandwidth is available to certain applications. Vendors had been planning to address those limitations with a higher speed option, the 802.11n standard, which runs at 100 Mbps. This standard has been plagued by infighting, so at least at the moment, there is no clear cut path to a higher speed network option.
Electrical Wires Carry Network Transmissions
The HomePlug Powerline Alliance advocates using electrical wiring to carry Ethernet signals and it turns a home's electrical outlets into networking jacks. The ubiquity of these outlets has been a lure with this networking option. Several companies, including Linksys, Netgear and Siemens, have certified their products with the first version of the standard.
The group has been working on a second version of its standard, dubbed HomePlug 1AV, which supports 200 Mbps transmission rates and includes QoS functions. A few years ago, HomePlug was positioned as a competitor to WiFi but the former has gained limited acceptance in the consumer marketplace.
The HomePNA Alliance has been concentrating on using copper phone lines to carry information through the home. Its attributes and limitations are similar to those with the HomePlug standard. Recently, the group enhanced its standard so it promotes the use of existing coaxial cable, as well as copper phone lines, to carry data through the home. AT&T announced it would support that offering as part of its high speed home networking initiative.
In short, the battle for home video services has begun — and MoCA's hat is in the ring. "MoCA has a lot of positive attributes and enough market momentum. I think it will gain at least some acceptance for carrying home video traffic," concluded ABI Research's Wolf.