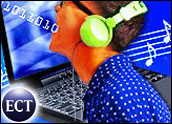 Apple rival Creative introduced its answer to Apple's iPod Shuffle Thursday. The Zen Stone offers the same 1 GB storage capacity of the Shuffle, but at half the price. However, without a full package of services such as iTunes, will the Zen Stone drop like a rock?
"The Creative Zen Stone, at just (US)$39.99, opens up a huge new market for MP3 players," said Sim Wong Hoo, chairman and CEO of Creative. "This is an incredible price for everyone to get a superior quality MP3 player capable of holding up to 250 songs.
"Whether it's your only player or a second player to take with you anywhere, the low price lets you think of MP3 players in a whole new way. You can loan it to a friend just like you would a CD or a mix tape and not have to worry about it, but you'll like it so much that you'll want another, so you always have one with you," he continued.
The player, which will hit store shelves May 14, comes in six glossy colors: black, white, red, blue, pink and green.
Rolling Stone
The Zen Stone comes in at just a little more than 2 inches wide and less than 1 1/2 inches in height. The tiny digital audio player (DAP) weighs 0.88 ounces. Within its small frame, the DAP packs in between 250 tracks (at 128kbps) or 500 tracks (at 64kbps) in either Windows Media Audio (WMA) or MP3 formats. Users need only drag and drop the songs using the Stone's software to add them to the player.
The screenless device offers two playback options, "Play" or "Random." Users can also skip between folders containing their favorite tunes, artists or playlists. It also boasts a built-in battery that, according to Creative, can last up to 10 hours between charges for extending listening.
Personalization takes several forms with the Stone. Users can choose between translucent skins in five matching colors that include a clip, an armband that comes with a skin or a styling keychain with a tiny carrier case for the player.
Creative has also designed a docking speaker system, the Creative TravelSound Zen Stone, available in July in either black or white. Powered by two AAA alkaline batteries, the portable speaker system will run for more than 20 hours, Creative said.
A Lover, Not a Killer
Apple's challengers need to provide something that is better than what Apple has done, Joshua Martin, a Yankee Group analyst, told TechNewsWorld. Apple has close to a 90 percent satisfaction rate, he explained, so companies trying to take on the iPod cannot just provide something that is almost as good or a few dollars less and hope to capture consumer mindshare.
"People may buy this device, but it is certainly not an iPod killer or a Shuffle killer," Martin said.
That is because the iPod's success is based not only on the elegant design of the software and the device itself, but also hinges on the integration between the hardware, the software and the online iTunes Music Store, Susan Kevorkian, an analyst at IDC, told TechNewsWorld.
"Creative is one of Apple's top competitors, so we can't sell Creative short for offering a new device. It's got solid hardware design and reasonably good traction in terms of branding worldwide. But Apple keeps gaining market share steadily, year over year, against everyone, including Creative," she said.
"So, it's really not enough for any single iPod competitor to try to compete with Apple strictly on the basis of new hardware without also doing a major overhaul of their software and service connectivity," Kevorkian added. "The $39.99 price is certainly very competitive and it helps position Creative against other non-iPod vendors who are offering small form-factor Flash-based players."
Magazines, Sodas and MP3 Players?
However, there are a number of other low-priced devices out there as well that have failed to capture significant market share, Yankee Group's Martin pointed out. A lower price, ultimately, begs the question: At what point does something become an impulse buy? Does someone become so desirous of having an MP3 player that they opt for the Stone, or do they decide to wait and save up for a Shuffle?
While $79 for a device is not exactly pocket change, it does put the device into the affordable range for many more consumers, Martin said.
"There are certain things that price-sensitive (or very price-sensitive) consumers still need to use an MP3 player — a PC, a music collection, or access to downloadable music. So there is a degree of investment already needed for consumers to utilize a device fully, so even if you drop the price to a point where it is more affordable, the question remains, does a consumer who opted not to buy the $79 device have all the accoutrements necessary to take advantage of the $39 dollar one?" Martin concluded.