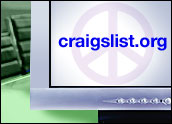 Richard Blumenthal, attorney general of Connecticut, has called for classified advertisement service Craigslist to shut down its adult services section. In addition, Blumenthal stated that he intends to call for his fellow state attorneys general to make similar demands of Craigslist. No particular legal action has been filed, however.
"The continued prevalence of prostitution ads belies Craigslist's promises to combat them," Blumenthal said. "I am calling on Craigslist to abolish the adult services section — and I will be urging my fellow attorneys general to join me. There is no reason, technological or otherwise, that open prostitution and human trafficking cannot be eliminated from the site."
Stepping Forward
Blumenthal's office declined TechNewsWorld's request for further comment; however, the current push coincides with fallout from a series of half-page ads purchased in major print outlets like The Washington Post describing the experiences of young women who have been the victim of sex trafficking. The letter-writing victim, "AK," was connected with the organization that purchased the ads, The Rebecca Project for Human Rights, through the advocacy group Fair Fund, according to Andrea Powell, Fair Fund's executive director.
"AK" is no longer a minor, explained Powell, and she now is willing and able to step forward and tell her story. Among other horrifying details, she tells of committing sex acts that garnered over US$30,000 per month for her trafficker. That man, said Powell, was eventually arrested but failed to show for his arraignment.
The executives of Craigslist have come forward to say they hope the "perpetrators" of these crimes are apprehended. However, Powell noted that the word "perpetrators," when it comes to sex trafficking, can apply to thousands of people — the trafficker himself, in this case, as well as all the people who bought sexual services through him. Thus, it is highly unlikely that all those involved in the illegal activities will be identified by law enforcement.
Prohibition Didn't Work
In the case of Craigslist, asserted Powell, the onus of intervening in illegal activities involving minors falls squarely on the shoulders of the Web service itself.
"Craigslist is the Wal-Mart of sex trafficking," she argued. "A lot of guys will not want to go to other sites, but Craigslist seems more legit." Admittedly, it is very difficult to know if a minor is behind a particular sexually explicit ad, either as the one offering services or as a child being offered by a trafficker, she explained. Thus, "unless Craigslist is willing to monitor every single ad that goes up, I don't see how they can continue to have this [adult services portion of the] site up."
In fact, it is very difficult to police adult classified ads from a governmental or law enforcement angle, Claire Simmers, chair and professor of international business at Saint Joseph's University, told TechNewsWorld. "With the Internet," she posited, "government bans are likely to be less effective than Prohibition of the 1920s; supply and access will not stop."
Instead, argued Simmers, "what is best for business is to understand who their target customers are, promote their image, and proactively self-supervise." She wondered whether or not Craigslist would include marketing adult services among its core activities. "Is it Craigslist's mission to provide an adult classified section? I doubt that this is socially responsible behavior, and it is inconsistent with their growth model," she stressed.