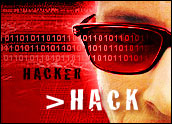 Israel last month was hit with a major cyberattack that shut down a key tunnel that forms part of its national road security network.
The attack, only being reported now, knocked out key security operations on back-to-back days, resulting in hundreds of thousands of dollars in damage.
It reportedly came in the form of a Trojan horse and caused a 20-minute shutdown. Then, the next day, it shut down the roadway during rush hour. The second wave took eight hours to remedy.
The hack appeared to be the handiwork of an outfit like Anonymous — which has attacked Israel before — and was not sophisticated enough to have come from an enemy government (like Iran, say), an Israeli security expert told the Associated Press.
[Source: Associated Press]
Pope Stoked About 10 Millionth Twitter Follower
Pope Francis celebrated his 10 millionth Twitter follower by tweeting, "I thank you with all my heart and ask you to continue praying for me."
Pope Francis has been more active on social media than his predecessors were. Granted, the majority of popes never had access to social media, but Francis nonetheless seems to be embracing this new way of reaching the masses.
To that end, he has tripled the number of followers on the official @pontifex Twitter handle during his short stint at the Vatican. It didn't hurt, surely, that the Vatican in July hinted that followers could be in line to receive indulgences from the Church for following the Pope.
The 10 million followers represent the sum of all of the Pope's Twitter accounts, which include different languages.
[Source:The Guardian]
Australia Reconsidering Huawei Ban
Chinese telecommunications company Huawei is a "very credible business," Malcolm Turnbull, Australia's new Communications Minister, said, revealing a stark shift in tone from Down Under, where about 18 months ago Huawei was barred from participating in the construction of a national broadband network.
Turnbull said he would reconsider the Huawei ban instituted by the former government, which was recently voted out of office.
A year ago, Huawei announced that it would give Australian authorities unfettered access to its software code in an effort to win the nation's trust.
[Source:The Age]
Chinese-Language Wikipedia an Ideological Battlefield
Editors from China, Taiwan and Hong Kong are competing against one another to help shape the Chinese-language version of Wikipedia.
Wikipedia editors for the Chinese-language site often post opposing views on history and politics, disagreeing on events described on the site — like, for instance, the Tiananmen Square Massacre, which is nary discussed or acknowledged in China proper but which has inspired peaceful rallies in Hong Kong. Editors of the Tiananmen page have quarreled over whether to invoke the term "massacre" and whether the 1989 protests were quelled "with force."
Wikipedia does not typically take down controversial pages, although the "Great Firewall of China" has blocked some controversial topics.
[Source:The New York Times]
Russians Create New Social Messaging App
The creators of Russian social media site VK, formerly VKontakte, have created a new social messaging app, "Telegram," that features secret chats and self-destructing messages.
The creators, brothers Nikolai and Pavel Durov, launched VK in 2006. They reportedly began working on Telegram a year and a half ago, so they presumably received a market boost in the form of Edward Snowden, who has touched off unprecedented concerns about government snooping on device-based chats.
[Source:TechCrunch]