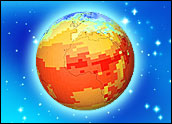 A new study by McKinsey & Company, a global management consultancy, has found that data centers are one of the fastest growing and largest sources of greenhouse gas (GHG) emissions.
Sponsored by the Uptime Institute and released Wednesday at the Institute Symposium: Green Enterprise Computing, the study attributes the increase to the growing demand for digital processing as Internet users conduct business daily online. The tasks run the gamut from online banking to online auctions, e-tail sales, Web searches and music and video downloads, according to the institute.
Unintended Consequences
The advent of the digital/Internet age, which brought computers onto the desks of millions of workers and into millions of homes, has led to a drastic increase in data center energy consumption, the study concluded. In 2000, there were some 5 million servers in use; by the end of 2005 there were 10 million.
Computers in general and servers in particular need to be kept at certain temperatures. Powering these devices while simultaneously keeping them cool requires a great deal of energy.
As the amount of hardware in a data center increases, so does its consumption of energy. Between 2000 and 2006, data center energy usage doubled in the U.S.
Data centers, which are currently responsible for half the GHG emissions of airlines, will outstrip the airline industry by 2020, according to the research. The incremental demand in the U.S. for data center energy will necessitate the construction of ten coal-fired or nuclear power plants to generate the energy consumed by data centers over the next five years.
Data center energy consumption accounts for nearly one half of one percent of world production. To put that into context, on average, a data center uses the energy equivalent of 25,000 homes in the U.S. In many industries, data centers are one of the largest sources of GHG emissions.
Energy consumption has increased by 13.8 percent between 2000 and 2006. If left unconstrained and current trends continue, data center GHG emissions will grow by a factor of four by 2020, according to the report.
The study calls for an immediate overhaul of corporate management practices and a doubling of the energy efficiency of large-scale corporate computing facilities — data centers — by 2012.
Energy Hogs
The need for more energy efficient computer hardware has become a major marketing point for equipment manufacturers recently. The problem is not with them, said Kenneth Brill, founder and executive director of the Uptime Institute, but with their buyers.
"Manufacturers have been very active in developing more energy efficient products, but most buyers have failed to include facilities costs in decisions, so energy efficient products have languished on shelves. Spending incrementally more for more energy-efficient hardware makes good business sense, when the typical server now consumes more in electricity costs than it costs to buy," he told TechNewsWorld.
The drive toward virtualization, still in its fledgling stages, also minimizes energy usage, according to Brill. While the institute recommends adopting a two-pronged approach that combines purchasing more energy efficient systems and adopting virtualization, it recognizes that these solutions can be costly. There are simple steps available as well which cost nothing and can also be effective, however.
"It helps, but it takes time and some investment. Even more important is just turn off zombie servers. Such unused servers can account for up to 30 percent of the total inventory. They have been obsolete, perhaps even virtualized, but nobody turned them off, so they are still consuming power and space," he explained.
Organizations can also implement best practices and better manage temperatures. Hot aisles should be greater than 90 degrees Fahrenheit; cold aisles can be in the 70s, Brill recommended. To do this, companies should block cable openings, fix cooling units and adjust setpoints, he added.
"Being green is really about being efficient. Tuning up what you already own is fast and cheap," Brill concluded.