Not much has been seen of Dell's "Project Ophelia" thumb PC since its debut at the Consumer Electronics Show in January, but recently reports have emerged suggesting that the Android-powered device is now making its way to beta testers, with an official release anticipated in the next few months.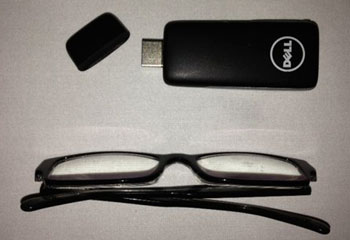 Expected to be priced at about US$100, the device is just slightly larger than a USB stick and enables users to convert any capable TV or monitor into a functioning interactive personal display device without using a computer, tablet or smartphone.
Now the Project Ophelia PC is due to ship during the next fiscal quarter — that is, August, September or October — according to a recent PCWorld report.
Dell did not respond to our request to comment for this story.
No Batteries Needed
With integrated WiFi and Bluetooth, the Project Ophelia device is designed to offer instant and secure access to entertainment, work content and applications wherever there is an available capable display.
Android 4.0 powers the device, opening the door to the wide world of Android apps on the Google Play store.
Users of the device can securely connect to Windows desktops and applications running on back-end systems from leading infrastructure providers including Citrix, Microsoft and VMware. It's also compatible with many existing Dell Wyse thin clients and software.
No batteries are needed because the device gets power from the attached display monitor via its Mobile High-Definition Link interface to the monitor's MHL port, or separately via its own USB interface.
Focused on the Enterprise
The Ophelia device is "primarily intended to allow IT managers to securely manage basic computing tasks for what could be a large number of employees using either desktop monitors or notebooks while bypassing the native operating system on those netbooks," Ross Rubin, principal analyst with Reticle Research, told TechNewsWorld.
"It's really designed to interact with enterprise cloud services and virtualized environments," Rubin added.
In some ways, the Ophelia device is not unlike Google's recently launched Chromecast, Rubin noted.
The Chromecast Factor
"There are some architectural similarities, and in both cases you're sort of ignoring whatever native intelligence a device may have and connecting directly to the cloud to bring down content," he pointed out.
In the case of the Chromecast, that content would be streaming entertainment via a service like Netflix or Pandora, while in the Ophelia device's case it would be a remote desktop, he added.
"The Chromecast is a very consumer-focused device, and it's one-third the price" of Dell's Ophelia, he noted.
Still, one key architectural difference is that "since the Chromecast runs a modified version of Chrome OS, you can't really create native apps for it," Rubin suggested.
Android-based Ophelia, on the other hand, "is almost more like Google TV in that you may be able to install apps on there," he said.
'A Flexible Gaming Platform'
Indeed, the Ophelia is "a more robust device than the Chromecast," Roger Entner, principal analyst at Recon Analytics, told TechNewsWorld. "The Ophelia can be a basic replacement for regular computers as it runs Android, with all the limitations that comes with it."
Where it gets really interesting, however, "is as a flexible gaming platform or, even more interestingly, as a diagnostics and control platform for tech support and other mobile functions, as you can just plug it into a monitor and off you go," Entner added.
"It's the second where this will become very useful as you can have standardized tools and protocols," he said.
'A High Price'
Still, Ophelia will compete with Chromecast and other devices at least to some extent because "in essence, they all seek to create the Android mobile experience through the TV," Jim McGregor, principal analyst at Tirias Research, told TechNewsWorld.
"You can call it a PC, a set-top box, a streaming media device, or whatever, but they all seek to offer very similar functions," McGregor explained. "The differentiation will be in the services offered and in the way they connect to the cloud. Most will use a WiFi connection, but a cellular connection could also be used."
Ophelia's MHL support "is great because you will not need a separate power connector, but $100 is a high price for any dongle solution," he opined. "This is one reason they are likely trying to offer it through service providers, so that the cost can be subsidized."
'Nothing New'
At the same time, "these dongle solutions are nothing new," McGregor pointed out. "They have been offered in China and other regions for some time. They are just a relatively new concept to the western markets.
"Although I think it is good that Dell is thinking out of the box, they are once again priced too high and facing competition from others that have already pioneered this segment," he concluded. "It would be very easy for someone to brand one of the Chinese solutions and offer it."