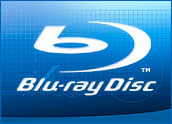 Sony won the high-definition DVD format war with Blu-ray. Now, Blu-ray is becoming more mainstream by edging into a budget-friendly Dell laptop.
Dell is now offering a Blu-ray-equipped laptop — the Inspiron 1525 model — starting at $879. The 1525 features a 15.4-inch high-definition wide-aspect display with 720p resolution and an HDMI (high-definition multimedia interface) port for connectivity to HDTVs.
The Blu-ray drive is backward-compatible and will play and burn traditional DVDs and CDs, Dell said.
A Much-Needed Step
This is great news for the Blu-ray market, Parks Associates Vice President and Principal Analyst Kurt Scherf told TechNewsWorld. It's also a crucial step because Blu-ray, which beat Toshiba's HD DVD as the next-generation technology for digital video, still has to find a mainstream market.
"It's simple economics," he said. "The more products with Blu-ray technology, the higher the production volume will be and, ultimately, the lower the costs to the consumer become.
"We've been told that, for Blu-ray to really get out of the gates after the end of the format war, the overall pricing has to be [lowered]," Scherf added. "If the drive manufacturers can get those volumes up, that's a good sign that that is going to happen."
Dell also is offering a Blu-ray burner drive as an option.
Laptop manufacturers were standing eagerly on the sidelines while Blu-ray and HD DVD slugged it out, Scherf noted. Now computer manufacturers can use the technology without reservation.
"The laptop guys were biding their time, as were pretty much everybody else. The fact that Blu-ray is now the clear winner means you're going to see a significant increase in the number of models each manufacturer puts out with the drive on them. You'll see some new models — particularly those that are entertainment-oriented — start to offer that drive," he commented.
Others Likely to Follow
"Ultimately, it's good for making Blu-rays more relevant, because you have the drive on your laptop and [in] your home, and you suddenly have an ecosystem," Forrester Research analyst James McQuivey told TechNewsWorld.
The Blu-ray burner technology likely will fuel wild growth of consumer acceptance, he added. "Once you have one, now suddenly you have a new need for a Blu-ray player in your living room. So, Blu-ray becomes a preferred format for your personal use, not just your laptop."
McQuivey pointed out that a Blu-ray disc will hold more data — 50 GB, compared with 8.5 GB on the standard format.
Nevertheless, the format still could take some time to take hold with consumers and it may not take hold with manufacturers such as Apple, he continued.
"If you take an already expensive component, add a Blu-Ray component, and not feel the desire the keep the [high] margin — I think that would be hard for Apple to do," McQuivey said.
Despite the complexity in bringing the technology to its line of laptops, Apple is likely to go in that direction, said Scherf.
"Apple is difficult because they have a clear download strategy with iTunes," he explained. "I'd suspect they're going to allocate at least the option for the drive on some of their systems. But I definitely see the Dells and HPs of the world going for the drive space. As for Apple, I'd see them, at least, offering the option."