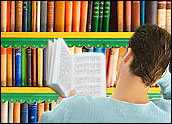 It's not exactly Amazon.com's business model, but Borders Group appears to be at least borrowing a page from the Web-based book and music retailer by offering digital downloads.
Borders, the second-largest book retailer in the U.S., on Wednesday, announced it is opening the first of 14 new concept stores that it will launch this year as part of a restructuring plan it revealed in 2007.
The first reworked store, a 28,000-square-foot unit near Borders' Ann Arbor, Mich., corporate base, is scheduled to open Feb. 22.
As of 2007, the chain operates nearly 600 superstores worldwide, about 500 of which are in the U.S.
Customer Downloads Available
Central to the new store format is a "Digital Center" that will enable customers to download books, burn CDs, self-publish their own books and research their family background.
"This is a completely new shopping experience," said George Jones, chief executive officer of the company.
The Digital Centers, he noted, bring an "interactive dimension" to the stores. Borders employees will be on hand to guide customers through the process. The company also is revamping its Web site to facilitate online purchases.
The move is a good step, Phil Leigh, senior analyst with Inside Digital Media, told TechNewsWorld. However, there also are hurdles to bringing digital buyers into the stores.
"Things like this have been tried before and haven't worked largely because people get impatient for the CD to download, because you have to wait for others to get out of the way and wait for the machine to burn it," he commented. "The longer the line, the worse it is. We'll have to see if they've effectively dealt with that. But I applaud their efforts to take these steps to adapt the terrestrial retail environment to the digital realities of today."
Possible Security Issues
There may be security issues, as well, Avivah Litan, an analyst with Gartner, told TechNewsWorld. "I'm certainly not saying Borders isn't doing it properly, but kiosks open up vulnerabilities and companies tend to forget about that."
Litan mentioned credit card fraud as a looming possibility in such a setup. However, those problems can be circumvented with a little extra care, she noted.
"It requires a lot of careful planning without thinking about the security implications," she said. "From a broader perspective, anything you can do in self service is better. There's certainly room for increased sales."
The plan calls for each Digital Center to be marked by large three-dimensional signage and contain multiple computer kiosks and stations dedicated to music and book downloading as well as mixing and making custom CDs from Borders' inventory of titles.
Reaching the 'Long Tail' Customer
The concept enables Borders to transcend the old brick-and-mortar store business model that limits sales to whatever products a store has in its inventory, Leigh noted.
It's the "long tail" theory, developed by Wired magazine's Chris Anderson in 2004, Leigh said, noting: "A physical store has to stop at some point. With this, they can offer more, where the demand may not be as great for other items but where there are still a lot of sales opportunities."
That's where the comparison to Amazon.com comes in, Leigh noted. "I think Amazon has said something like half their sales are books that they don't stock. So, the long tail is really quite significant here. What it means is you can go to a kiosk and order from the long tail."
The genealogy and self-publishing services are intriguing as well, he added. "A lot of people have some latent interest in their backgrounds, and it can stir interest in some books, biographies, books about history related to an era they want to learn about. Personal publishing is also fascinating. Borders recognizes a lot of customers are aspiring authors."
Shares in Borders sold at US$10.63 — down 4.93 percent from their previous closing price of $11.18 — during midday trading on the New York Stock Exchange. The stock has a 52-week range of $8.81 to $24.15.