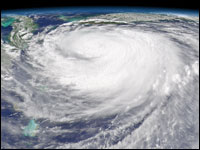 As these dog days ramp up for hurricane season in the east, and wildfire season in the west, it's worth taking a look at ways to gather information that can help you decide when to evacuate, keep tabs on what's going on back at home, and find out when it's safe to return.
Half a dozen camera-spouting news helicopters in the air, in the case of a wildfire, and daredevil local news weather anchors precariously bracing wind perched on top of a seawall, in the case of a hurricane, can provide valuable intelligence for you and your family.
Television news may be your primary source of information. Everybody uses it, including the local emergency managers in charge.
Even if you ignore the dialog, which can often be misguided or even blatantly wrong, it's worth it just to watch the images. At the very least, you'll get a sense of the scope of the problem.
Some Considerations
Lack of power or having to leave your fixed, home- or work-based television installation are the two main considerations. Other issues can include lack of Internet connectivity often caused by lack of power.
However, your laptop and a few cheap add-ons can provide all the incident video feed you'll need.
Power Preparations
Perform a test of your laptop battery capacity by charging the laptop fully. Then turn the laptop on, make a note of the time, and allow the battery to drain through normal use.
Practically, the battery should last at least a couple of hours. If it's old, it may not, and you should consider purchasing a new battery.
Enter the battery model number copied from the battery into a Web browser and perform a search for an online seller. A new battery can be an investment, so skip to the next step if it's out of your budget.
Power Inverter Route
Multiply the amperage by the voltage of your existing laptop power supply. This gives you its required wattage.
Purchase an automobile AC power inverter capable of providing enough power — the wattage calculated from the previous step. Generally, an inverter rated to 100 watts continuous use should provide enough capacity.
An inverter can cost as little as US$20 at a big-box electronics retailer. It can also include a USB socket — useful for charging a phone too.
I've used the CyberPower CPS100BU 100W to successfully run a Dell laptop in my vehicle.
Plug the inverter into the vehicle's cigarette lighter socket to create the household power supply. Then plug the laptop into the inverter and operate it normally.
Check the Battery
Periodically substitute a battery and charging system monitor to display the condition of your vehicle battery. Do this by removing the inverter and plugging in the similarly sized monitor device.
I've used a monitor made by Equus ($15 at Amazon.com) that has simple charge level color-coded LEDs. Orange and red indicate that you need to run and lightly rev the engine to charge the vehicle's battery.
Warning: Never run the vehicle's engine in a confined space like a garage.
Attach the Tuner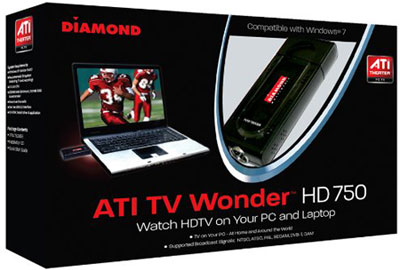 Diamond ATI Theater HD 750 USB TV Tuner
Purchase a USB stick tuner. This device plugs into a laptop USB port and acts just like the tuner in your fixed-install TV. I've successfully used the Diamond TVW750USB ATI Theater HD 750 USB TV Tuner ($38 with $10 rebate at Amazon).
Install the drivers from the included disc first, and then install the included software.
Tip: It is extremely rare to find live Internet streaming of local news. Local news websites tend to provide prerecorded video only. A USB stick tuner allows you to view over-the-air live broadcasts.
Attach the Antenna
Attach a TV antenna to the USB stick tuner. The Diamond USB stick tuner is supplied with an antenna that you can use.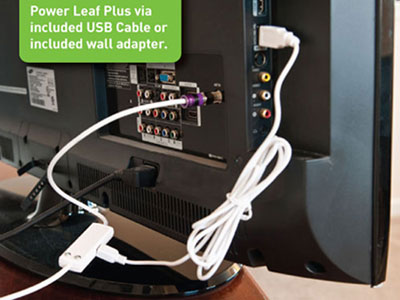 The Leaf Plus Amplified Indoor HDTV Antenna
I've also used a paper-thin amplified Leaf antenna ($75 at gomohu.com) that Mohu kindly sent me to try out.
Results were outstanding with the Leaf, with more stations pulled in than an amplified Terk even.
The Leaf is particularly suitable for your mobile family command vehicle, because its thinness allows the antenna to be slipped into the same bag as a laptop, and along with the USB stick tuner in a side pocket, it keeps everything in one place.
Plus, the Leaf's amplification power can be supplied by USB from the laptop.
Tune Channels
Choose the "Auto scan for channels" or similar function within the USB stick tuner's software on the laptop to search for channels. Do this from your vehicle as part of your regular 72-hour disaster preparations.
You may find that you need to hang the antenna out a window to reduce obstructions, and move to a position where you have line-of-sight to your TV broadcast masts.
You may also have to rescan every time you move the vehicle.
Better signals will be achieved with altitude and line-of-sight, but obviously safety is your primary concern during any incident.
Warning: Don't try to watch television while driving the vehicle. It won't work very well and is unsafe.
Want to Ask a Tech Question?
Is there a piece of tech you'd like to know how to operate properly? Is there a gadget that's got you confounded? Please send your tech questions to me, and I'll try to answer as many as possible in this column.
And use the Talkback feature below to add your comments!