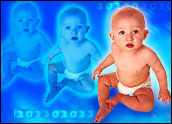 Parents who have eagerly sat their infants in front of TVs playing DVDs and TV shows designed to boost their intelligence may want to rethink their plans, according to a recent study published in the Journal of Pediatrics. The so-called education DVDs and shows aimed at babies ages 8 to 16 months that purportedly make them smarter could cause them to lose language skills, according to researchers.
"It is definitely in line with what the American Academy of Pediatrics has been saying since our policy statement was released in 1999, which says we discourage all screen time for children under the age of two," Dr. Ari Brown, an American Academy of Pediatrics spokesperson, told TechNewsWorld. "The reason why is, A, we don't see it being beneficial, and B, it may be detrimental."
The study is the beginning of a larger project to gauge the effects of viewing media during the first few years of life.
Dumb and Dumber
The team of researchers from the University of Washington conducted telephone interviews in February of 2006 with 1,008 parents of children between the ages 2 months and 2 years of age. The parents were asked how much time their child spent watching various children's programming and videos targeting infants, as well as how often the parents read or told stories to their children. They were also asked how many words out of a list of 90, such as "choo choo," "mommy," and "nose," their child knew or was using.
The results showed that, among infants between 8 months and 16 months, for each hour of viewing the baby DVDs, videos and other programming, the child lost an average of six to eight words compared to infants who did not watch them.
"Babies watching an hour or more of TV or DVDs, compared to kids who aren't, do have fewer vocabulary words," Brown said. "This is the first study to say, 'This may be detrimental and here's one of the things we see.'"
Baby No-No
The effect is more pronounced for children viewing baby DVDs and videos, the researchers found. No other form of media exposure they measured was associated with either better or worse language outcomes, they concluded.
Though researchers have not been able to pinpoint the link between baby videos and poor language development, they noted after casual observation that the videos "typically had little dialog, short scenes, disconnected images and a variety of visually salient but linguistically indescribable events" such as lava lamp images and "oddly twirling images."
Educational shows for children, on the other hand, are "carefully crafted, and many are exhaustively tested to make sure that they meet the developmental needs of preschoolers," the researchers continued. While the content and formal features are not optimized for those under age two, they still may be able to understand large portions of the show's cognitive and linguistic content.
However, they added that the effects may be temporary, which could account for the lack of evidence that the DVDs and videos adversely affect the cognitive development of toddlers.
"The study does not answer the question why," Brown noted. "It raises the question why but it doesn't answer the question why."
The Value of Free Play
Brown cautioned parents who are considering purchasing visual media promoted as a tool to increase the intelligence of babies, asserting they should realize that they are being marketed to by these companies. They should also follow the AAP's recommendation.
For parents who say they just want to start up a DVD that will capture a child's attention and give grown-up a moment to take a shower or cook dinner, Brown advises them to think back to what their parents did when they were children.
"My argument back to them is, what happened to the value of independent play? What did you and I do when we were growing up and we didn't have these DVDs to pop in?
"Time is better spent having a child engaged in independent play," she continued. "Even a four-month-old with a rattle is gaining valuable knowledge by figuring out how to make that rattle shake. And it's okay for you to go take a shower and leave your baby is a safe place with something they need to figure out how to manipulate. That's time better spent than plopping your child down in front of seemingly innocuous DVD so that you can get something done."