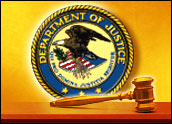 Advocates of net neutrality suffered a blow to their cause Thursday, when the U.S. Department of Justice's Antitrust Division issued a filing cautioning against regulations that could hamper development of the Internet.
Prohibiting broadband Internet service providers (ISPs) from charging content providers directly for faster or more reliable service "could shift the entire burden of implementing costly network expansions and improvements onto consumers," the filing warned. That, in turn, could deter ISPs from upgrading and expanding their networks to reach more Americans, the Justice Department warned.
Bottom line: In response to the Federal Communications Commission's Notice of Inquiry, the Justice Department gave its stamp of approval to allowing ISPs to charge extra fees for content providers who want a higher quality of service.
"Consumers and the economy are benefiting from the innovative and dynamic nature of the Internet," said Thomas O. Barnett, assistant attorney general in charge of the Department's Antitrust Division. "Regulators should be careful not to impose regulations that could limit consumer choice and investment in broadband facilities."
Pros and Cons
Net neutrality proponents have argued that regulation is necessary to keep ISPs from slowing or blocking access to bandwidth-intensive Web sites such as YouTube because of their higher-than-normal bandwidth demands. Some have even argued that ISPs could ultimately block access to sites that offer competing content or hold consumers "hostage," in a sense, by offering guaranteed access for a steep premium.
Opponents of regulation, on the other hand, including many of the telecom providers, have argued that the market will ultimately decide if ISPs become too restrictive. In addition, with content-related services evolving so rapidly, any regulations will quickly become obsolete, they have argued.
In June, the Federal Trade Commission (FTC) issued a report with conclusions similar to those made by the Justice Department on Thursday.
Efficient Differentiation
Differentiating service levels and pricing are common and efficient ways of allocating scarce resources and satisfying consumer demand, the Justice Department noted in its filing, citing the U.S. Postal Service's multi-tiered offerings with different costs and delivery speeds.
"No one challenges the benefits to society of these differentiated products," the DoJ said in its filing. "Whether or not the same type of differentiated products and services will develop on the Internet should be determined by market forces, not regulatory intervention."
Indeed, echoing the FTC's conclusions in June, the Justice Department also asserted that there is no evidence that would suggest the existence of a widespread problem that needs to be addressed, nor is there even any consensus on what "net neutrality" means or should mean.
'Highly Skeptical'
"Even assuming that a potential danger exists, the ambiguity of what conduct needs to be prohibited raises a real possibility that regulation would prohibit some conduct that is beneficial, while failing to stop other conduct that may be harmful," the DoJ said.
"The FCC should be highly skeptical of calls to substitute special economic regulation of the Internet for free and open competition enforced by the antitrust laws," it wrote. "Marketplace restrictions proposed by some proponents of 'net neutrality' could in fact prevent, rather than promote, optimal investment and innovation in the Internet, with significant negative effects for the economy and consumers."
Given the controversial nature of net neutrality, the Justice Department's filing illustrates the exceptionally fine line that must be walked in deciding the question.
A Balancing Act
"Great care must be taken in balancing the needs of the populace, wanting ease of access to information on the Internet, and the providers, needing to make a profit in this rapidly evolving field," Raymond Van Dyke, a Washington-based technology attorney, told the E-Commerce Times.
"In this comment, the Department of Justice is merely reminding us all that it is their job to monitor provider behavior for anti-competitiveness through the antitrust laws, thereby making further regulation unnecessary at this time," he added.
The Mercatus Center at George Mason University did an analysis for comment on this proceeding, and came to much the same conclusions the Justice Department did.
Predicting the Future
"I'm delighted the Antitrust Division reached this conclusion," Jerry Ellig, senior research fellow at the Mercatus Center and former deputy director of the FTC's office of policy planning, told the E-Commerce Times. "We also noticed that nobody has presented evidence of a specific market failure or problem that exists no."
Advocates of regulation have essentially based their arguments on the potential for future problems without an explicit quantification of the probability that they would occur, Ellig added, and such likelihood statistics are "the kind of thing antitrust organizations look for when trying to evaluate a problem that hasn't happened yet."
Given the FTC's similar conclusions in June, it would also have been surprising for the Justice Department to disagree, since the two antitrust organizations rarely oppose each other publicly on major issues, he noted.
The next step in the process will be for the FCC to go through all the various reports and materials submitted in this proceeding and reach some kind of conclusion — a process that could take anywhere from a few months to a few years, Ellig said.
An Accessible Market
Ultimately, many of the arguments currently being used may be overlooking an essential feature of the Internet, Ira Brodsky, president of Datacomm Research, told the E-Commerce Times.
"The Internet is the most accessible market in the world, so if one company raises prices, another one will surely find a cheaper way to offer something similar," Brodsky said. "Besides, any company that raises prices will have to add value to justify it, and there will be some customers who will find that extra value worthwhile."