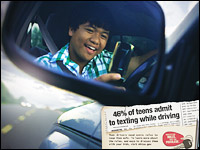 It could be the next service announced by your car's GPS feature when you drive from state to state: letting you know what highway exit to take — and warning you about whether texting/phoning while driving in that state is legal.
Tuesday's move by the Department of Transportation to outlaw texting while driving for interstate commercial traffic makes it clear that the federal government is making distracted driving a priority in 2010. However, it also adds to the tangle of separate state and, in some cases, civic regulations either recently enacted or in the works that would ban texting/phone use behind the wheel.
The new federal ban is effective immediately, and those caught violating it face criminal and civil financial penalties that could total US$2,750. More actions regarding distracted driving are coming, DoT Secretary Ray LaHood hinted, as more and more auto manufacturers and aftermarket companies stick more communications and navigation technologies into cars and larger vehicles.
The Regulatory Roundabout
The new rule raises a reasonable question: Why not a federal ban against texting for all drivers? The feds regulate interstate traffic, such as trucks and buses. States take care of private traffic, said Justin McNaull, director of state relations for the American Automobile Association. "It's a positive step towards eliminating this dangerous practice from our roadways," McNaull told TechNewsWorld. "There are powers that the federal government can take with commercial drivers. With passenger drivers, we're left to work state-by-state to address it legislatively, as well as continuing to get the message out to get people to voluntarily stop this behavior."
However, McNaull admits that the differences in laws regarding distracted driving from state to state can be as confusing to motorists as negotiating Los Angeles freeways at rush hour. Some recently passed laws make texting or talking while driving a primary offense, subject to a ticket; others make it a secondary violation — that is, the driver can only be cited if he or she has violated another traffic law at the same time.
"When it's a matter of the fine being different, or primary enforcement or secondary enforcement, it's not as big of a deal as when you have some states that permit the behavior versus it being outlawed in neighboring states," McNaull said. "From a driver's standpoint, the best safety practice is just don't do it. Don't wait for a state law to be passed. If you're in a state that does have this [ban] and you travel into one that doesn't, don't decide that it's now OK for you to do it."
The Road Traveled in States
Two neighboring Pacific Northwest states offer a good example of what's becoming a jumbled Rand McNally road map of different laws. On Jan. 1, it became a primary offense to text or talk on a cellphone while driving in Oregon; fines could reach $150. However, a drive up Interstate 5 from Portland to Seattle results in different regulatory territory; currently drivers caught in Washington with a cellphone in their hands can only be ticketed if they were also speeding or breaking another traffic law.
At least one lawmaker is working on changing that — Washington State Senator Tracey Eide, who has been working on the phones-in-cars issue for 10 years, is now pushing a bill through the legislature that would upgrade distracted driving to a primary offense.
"We passed the bill out of transportation [committee] yesterday," Eide told TechNewsWorld. "I did have three senators vote against it. They think they have a right to talk while driving. I'm looking at this from a safety issue. It took me seven years to get it to a secondary offense. Now we have studies coming back and experts saying [distracted driving] is worse then they thought it was. It's time for people to hang up and drive."
The DoT decision won Eide's applause, but she also wonders about the confusion that motorists encounter regarding federal, state and civic regulations. A factor in her decision to get involved with statewide mandates in 2000 was talk of some Washington cities passing their own laws. "I don't know one city boundary from another, and that's why I wanted to make it statewide." She did add that Washington congressman Jay Enslee has asked for a copy of her state bill to see if there is anything that can be carried over to federal legislation.