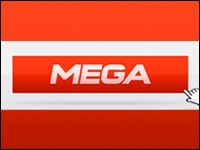 Kim Dotcom, founder of the now-defunct file-sharing site Megaupload, has long been in hot water with the big, huge United States. Now he's irked the tiny, little nation of Gabon.
According to the BBC, Gabon has blocked the Megaupload successor, which Dotcom announced last week, and which is supposed to launch on Jan. 20.
The URL that Dotcom had tabbed for his new site, Me.ga, seemed a logical one. Alas, ".ga" is the top-level domain of Gabon, and the country's communications minister said he wants nothing to do with the site.
Dotcom took to Twitter, asserting that Gabon's objection was caused by the U.S. government. He also has a backup URL picked out, so he says file-sharers needn't worry.
Dotcom, a 38-year-old from Germany, is currently living in New Zealand. In January, his home was raided by New Zealand authorities who were working in concert with the U.S. to bring Dotcom to trial on a slew of charges, including copyright infringement and money laundering. His extradition hearing, originally scheduled for last summer, has been postponed until March.
Gabon, on the west coast of Africa, wasn't Dotcom's only headache Wednesday: Hackers claim to have taken over the Me.ga domain. According to Torrent Freak, the hackers say Dotcom is no better than the highly lucrative entertainment companies he rails against. They are reportedly considering selling the domain to Universal Music.
Online Sleuthing OK'd in Taiwan
The "human flesh search engine," which is a China-born term for Web users banding together to track down people's identities, has been formally legalized in Taiwan.
According to Tech In Asia, the so-called "search engine" is — at least ideally — used for exposing corrupt officials or outing people engaged in offensive online behaviour.
Tech In Asia used the example of the "Watch Brother case," in which someone was photographed smiling at the site of a grisly bus accident. Thanks to social media and chat boards — that is, thanks to the human flesh search engine — Chinese netizens figured out that the smiling party was a government official who had also been photographed with an array of obscenely expensive wristwatches. Said official has since been thoroughly disgraced.
Of course, some are concerned that it's a slippery slope between investigating and witch hunting. Thus, giving the green light to the human flesh search engine, Taiwan has made provisions about what is and isn't allowed.
RIM Passes US Border Patrol
Canada-based BlackBerry maker Research In Motion, or RIM, said its new BlackBerry 10 operating system has been awarded security certification in the U.S.
According to Bloomberg, which cites sources at RIM, the BlackBerry 10 handsets and tablets won FIPS 140-2 approval, the first time that BlackBerrys have garnered FIPS approval prior to their commercial debut.
RIM reportedly has more than 1 million government customers in North America, and BlackBerry is still a fixture in the White House. In October, however, the Defense Department announced future plans to hire a contractor to build a system to manage and secure more than 150,000 Android and iOS devices. As Bloomberg points out, this is a potential threat to RIM's dominance in Washington.
Chinese Web Abuzz During Election
Chinese Internet users and media weighed in, in large numbers, on the U.S. presidential election.
According to The Wall Street Journal, Barack Obama was the No. 1 trending topic, and Mitt Romney No. 4, on Sina Weibo, which is akin to Twitter. There were more than 24 million posts about the election on Sina Weibo on Wednesday.
Chinese media also had their say about the election.
Many users used social media to support Obama, whom they by and large preferred over Romney, while others pointed out the "lack of input" they have when it comes to choosing public officials, the Journal reported. One choice quip said, "They call it 'election,' we call it 'having a meeting.'"