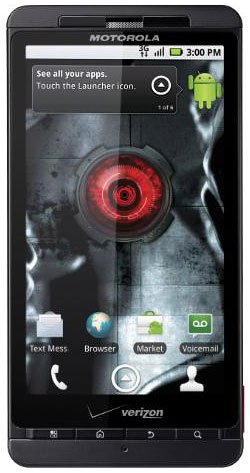 The Verizon Droid X by Motorola
Even as Apple suffers the continuing pains of its iPhone 4 "Antennagate" brouhaha, it appears at least one competing device is now facing problems of its own: Motorola and Verizon on Tuesday acknowledged faulty screens on some Droid X handsets and offered affected consumers a free replacement device.
"We are aware of a very small number of Droid X units that have experienced a flickering or banding display," Motorola spokesperson Juli Burda told TechNewsWorld. "The exposure of devices is limited to less than one-tenth of a percent."
Motorola has already resolved the issue, Burda said, and it continues to ship the product.
"Any consumer who experiences a flickering or banding display should contact Motorola's customer support center or Verizon Wireless for a replacement," she added.
Those experiencing issues "will have their phones replaced in a timely manner," Verizon Wireless spokesperson Marquett Smith told TechNewsWorld.
'Most Will Be Pleased'
The Android-based Droid X just hit the stores last week after considerable fanfare, particularly given the iPhone 4's ongoing problems.
Many affected users apparently found the device worked fine at first, and then problems began to crop up, according to reports, in some cases rendering the display useless. At least one user posted a YouTube video demonstrating the problem.
Whereas Apple has suffered sharp criticism for taking too long to respond to the iPhone 4's antenna issues, the quick response from Motorola and Verizon should come as a pleasant surprise, Alex Spektor, a wireless analyst with Strategy Analytics, told TechNewsWorld.
"For those consumers who are suffering from the problem, it can certainly be a frustrating experience, but I think most will be pleased with Verizon's almost immediate offer to replace the device," Spektor explained.
Of course, the alacrity of that response is not too surprising, given that the device is not only still under warranty but within the 30-day return period, he noted. "It would make sense for Verizon to keep those consumers as happy as possible."
'The Best Way to Do It'
Indeed, the companies' response has been "very good," agreed Chris Hazelton, research director for mobile and wireless with the 451 Group.
"In today's terms, with all the other issues out there, they reacted very swiftly," Hazelton told TechNewsWorld.
"I'm not comparing this with the iPhone's antenna issues, but the fact that Motorola and Verizon acknowledged the problem right away and reacted with a solution — that's the best way to do it," he added. "Acknowledge it, disclose how big the impact is, and offer a resolution."
'There Will Be Devices in the Channel'
Though there were reports as early as last weekend that the Droid X had already sold out online, there are typically always devices in the channel that can be accessed for priority needs such as this replacement program, Hazelton pointed out.
"With the retail channel control that Motorola and Verizon have, there will be devices in the channel that they can prioritize and that may be easily accessible," he explained.
Although this particular problem affects just a very small proportion of buyers, it still "speaks to the pressure that smartphone vendors are under right now to get their devices to market on time," Spektor noted.
"There's a lot of competition for Motorola from Samsung, Apple and HTC," he concluded. "As we've seen with the iPhone antenna issue, and as we've seen with component shortages for other vendors, there's a lot of pressure to get these devices onto the market as quickly as possible in order to remain competitive."