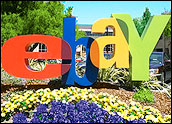 eBay is taking another stab at the Chinese market.
According to Tech In Asia, eBay's new Chinese site, which is a joint venture with luxury retailed xiu.com, is "low-key but stylish" and focuses on mid-range to high-end products such as clothing, handbags and accessories. Banana Republic, Clinique and Guess are among the estimated 5,000 brands already on board with the site.
News broke a few weeks ago that eBay would partner with xiu.com, which itself specializes in high-end clothing.
China's e-commerce market was worth more than US$120 billion in 2011, a 53 percent spike from 2010. Taobao is the country's dominant online retailer with a 41.5 percent market share.
eBay tried to establish itself in China more than five years ago — and failed. This time, it could be better positioned, now that it has an established domestic partner.
Google Releases Transparency Report
In its semiannual Transparency Report, Google reports that governments around the world issued more than 20,000 requests for access to user data and nearly 2,000 requests to remove content from January to June.
The United States led by a wide margin in user data requests. According to the report, the U.S. made 7,969 requests for user data. No. 2 on the list, India, came in at 2,319.
Brazil (1,566), France (1,546), Germany (1,533) and the UK (1,425) were Nos. 3 through 6.
Google complied with 90 percent of U.S. data requests, which was the highest rate of any country.
As the BBC points out, Google's first report, released in 2009, showed 12,539 requests for information, which means this report's 20,939 figure is more than 60 percent higher.
The numbers reflect a trend that government surveillance is on the rise, Google said.
There were also more requests to remove content: 1,048 during the last six months of 2011, 1,789 this time around.
China Enlists Businesses in Censorship Push
"Web police units" have been instructing companies in and around Beijing to assist in China's efforts to censor the Web ahead of the change in Communist Party leadership.
According to The New York Times, companies were asked to install hardware that logged traffic, blocked certain websites and connected with local law enforcement servers. Companies were threatened with possible fines and Internet blackouts if they didn't comply.
The Times cites industry executives and official directives.
Numerous foreign companies resisted the measures, which The Times says were part of a wide range of "shadowy tactics" designed to cleanse the Web during the change in leadership, which is taking place this week.
Foreign journalists and activists have reportedly complained of increased attacks on email accounts.
Jail Time for DDoS Marketing Fail
A 28-year-old who promoted his DDoS protection kit by — how else? — launching a pair of DDoS attacks has been sentenced to nine months in jail.
According to the South China Morning Post, the attacks targeted a Hong Kong Stock Exchange website and took place in August of 2011. The site, HKExnews, provides information on listed companies.
The result of the attacks: Trading on seven companies' shares — the companies had a combined market value of $150 billion — was suspended, as was trading on numerous warrants and derivatives linked to the aforementioned stocks.
US, Mexico Try To Thwart Stolen-Phone Market
The U.S. and Mexico are collaborating on a plan to weed out the black market for stolen mobile phones.
According to Mashable, Mexican telecommunications providers signed an agreement Tuesday in Washington, D.C., to participate in an international database of stolen phones and mobile devices.
In addition, the Federal Communications Commission and Mexico's Secretariat of Communications and Transport will work on a joint report to monitor whether mobile carriers disallow activation of stolen devices.