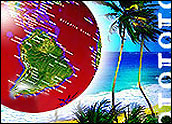 Ecuador hosted an Internet freedom forum last week, welcoming guests from the pro-transparency community.
The nation's president, Rafael Correa, is also funding a new research project designed to overhaul traditional copyright laws. To that end, the FLOK Society, based at a public university in Quito, is exploring ways to liberate Ecuador's Internet from global intellectual property laws.
Ecuador is famously housing Wikileaks head Julian Assange at its London embassy. It also reportedly considered granting Edward Snowden asylum.
[Source: Buzzfeed]
Tech Giants Urge Surveillance Restrictions
Google and Microsoft are headlining a group of eight tech giants that are urging President Obama and Congress to spearhead new international standards on surveillance.
The companies have detailed their concerns on their website and in an open letter published Monday in the form of full-page ads in prominent newspapers. Along with Google and Microsoft, the cohort includes Facebook, Twitter, Apple, Yahoo, AOL and LinkedIn — companies that are traditionally competing against one another but which are now bound by their wariness about the impact that surveillance will have on their brands.
The companies said that Edward Snowden-driven revelations suggested that "the balance in many countries has tipped too far in favor of the state." The companies do not call out individual countries as being particularly villainous, but do ask "the world's governments to address the practices and laws regulating government surveillance."
The Obama administration is already conducting a review of National Security Agency procedures, the results of which could be presented as early as this week.
[Source:The New York Times ]
Chinese Man Almost Burns Alive Playing Video Game
A man in the Chinese city of Nanjing reportedly almost burned alive because he was so captivated by the mobile phone game he was playing in his flaming car.
As the story goes, a bystander was walking down the street and noticed that the undercarriage of a parked car, a BMW, was on fire. The driver, meanwhile, was transfixed by his game and unaware of the spreading flames. At that point, the passer-by shouted at the man to get out of his ride, which eventually was engulfed by flames.
Far-fetched as this sounds — and it does sound far-fetched, doesn't it? — there have been crazier video game-related stories out of China. Like the one about the 15-year-old who murdered his mother when she encroached on his gaming, or the one about the man who died from playing video games for nearly a week straight .
[Source: The Register]
Alibaba Teams With Appliance Maker
Alibaba Group, China's eminent e-commerce outlet, has teamed with Chinese appliance maker Haier Electronics Group to develop Alibaba's logistics business.
The deal, which was for a reported US$361.1 million, sent Haier Electronics' stock to a 14-year high. On the year, Haier Electronics' stock is up a whopping 95 percent, so this is a marriage of titans.
Alibaba has been on a deal-making binge this year ahead of what some think could be a $15 billion IPO. Alibaba plans to invest some $16 billion in logistics and support by 2020, by which time China is expected to have the world's largest e-commerce industry.
Alibaba is also positioning itself to dominate the so-called m-commerce market — that is, mobile commerce. The company even launched a program whereby subscribers would receive free smartphones for using devices that run on Alibaba's mobile operating system.
[Source: Reuters]