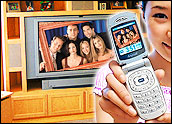 There's a winner in the high-stakes mobile TV market in Europe, although the issue is far from decided in other global markets.
On Monday, the European Commission said it was backing Finland-based Nokia's Digital Video Broadcasting Handheld as its choice for mobile TV technology across Europe.
DVB-H is now on the EU List of Standards, giving it official bloc support in a push for continuity in telecommunications in all member countries.
"For mobile TV to take off in Europe, there must first be certainty about the technology," said Viviane Reding, EU commissioner for the information society and media. "This is why I am glad that with [Monday's] decision, taken by the commission in close coordination with the Member States and the European Parliament, the EU endorse DVB-H as the preferred technology for terrestrial mobile broadcasting."
Pushing the Standard
All EU member countries now are required to encourage the use of DVB-H for mobile TV broadcasting.
EU-wide adoption of DVB-H will provide the necessary market scale the industry needs to launch mobile TV services across Europe, the EU said, adding that a common standard will benefit consumers who, in turn, will be able to watch TV on their mobile phones anywhere in Europe.
DVB-H is already the most widely used standard for mobile TV in Europe and is currently between the trial and commercial launch stages in 16 EU countries. Commercial DVB-H services already are up and running in Italy, with launches expected later this year in Finland, Austria, France, Switzerland and Spain.
Monday's decision is a response to a strategy the commission proposed last July for promoting mobile TV across Europe and using the European technology DVB-H. The Council of Telecoms Ministers endorsed the strategy in November.
The standard doesn't have unanimous support, however, according to published reports that list Britain, Germany and the Netherlands as opponents to DVB-H as the sole mobile TV technology for the EU.
Nevertheless, DVB-H was an expected selection. "The EU made it clear for a long time that DVB-H was going to be the technology of choice in Europe," John Barrett, director of research for Parks Associates, told TechNewsWorld.
Competition Heated Worldwide
Among other mobile TV technologies are Multimedia Broadcast Multicast Service, available through existing cellular networks; Terrestrial-Digital Multimedia Broadcast; DVB-T, a terrestrial DVT standard; and MediaFLO, a technology promoted by U.S.-based Qualcomm.
DVB-T has the backing of Global System for Mobile communications, which is the most-used standard for mobile phones in the world.
That's not an inconsiderable advantage, CRT Capital Group analyst Ashok Kumar told TechNewsWorld. "It is important because one is an evolution of that standard you can tap into. That's a distinct advantage." Kumar added that the first standard to reach a critical mass of customer support will win out, "and that's in the best interest [of] the market at large."
However, DVB-H isn't likely to be adopted as the standard in the U.S., Barrett said. "DVB-H, narrowly defined, is pretty much dead in the U.S. There was some hope you would be able to get DVB-H; now, the talk is you're going to have DVB-SH (Digital Video Broadcasting — Satellite services to Handhelds), which allows you to broadcast [via] satellite. If you're driving around, you're going to lose coverage unless they've built those [relay] towers all over."
Putting Stakes in the Ground
The EU's preference notwithstanding, the matter isn't yet settled — at least globally, Kumar said.
"I'm not sure which one will achieve critical mass," he said. "There might be a convergence at some point. They will follow different trajectories. It's fairly embryonic market. It doesn't have to be a zero-sum game. Nokia and Qualcomm and others are just putting their stakes in the ground."