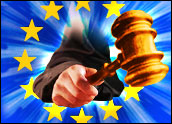 The European Union gave Google a January deadline to devise detailed proposals to resolve a two-year antitrust investigation into whether Google used its market dominance to thwart rivals, according to Reuters.
The Union's antitrust chief, Joaquin Almunia, issued the deadline Tuesday in Brussels to Google Executive Chairman Eric Schmidt. Should Google fail to address European complaints, which are anything but new, then Google would face a long battle with one of the world's most powerful antitrust authorities.
If found guilty, Google could be forced to fork over 10 percent of its revenue — the standard penalty sought by the European Commission in antitrust cases, including the Commission's case against Microsoft.
Given Google's US$40 billion revenue, that would mean a $4 billion hit.
The Commission has substantially reduced its differences with Google since the two sides started negotiating in July, Almunia said.
European complaints center on Google unfairly favoring its own services over rivals, as well as potentially copying materials from other sites without permission.
Creator of Facebook Sex Page Avoids Jail
In Australia, the 22-year-old creator of the degrading "Bendaz Root Rate" Facebook page has avoided a jail sentence.
The Bendigo Advertiser, reported that the page creator, David McRory, had originally received a four-month jail sentence for publishing objectionable material. That sentence, however, was appealed and subsequently replaced with "community corrections orders."
The page, which was cocreated by McRory and his brother last summer, invited people to rate their past sexual partners. Hundreds of comments were posted to the page's wall, available for anyone to see.
Samsung Backs Off Apple Ban
Samsung has ceased its attempted sales ban on Apple products, including the iPhone and iPad, in five European countries.
The Guardian reported that Samsung was warned by the European Commission that it could be abusing its ownership of patents that are "essential for standards such as 3G networking." Samsung's decision to drop the lawsuits came hours after Apple lost a motion in a California case requesting a sales ban on Samsung products.
While it has dropped its push for injunctions against Apple, Samsung will nonetheless pursue lawsuits seeking payments for use of its patents.
The would-be injunctions in Europe arose from Apple's use of standards-essential patents, which companies have to use to make devices compatible with things like 3G or Wi-Fi. The patent owner (Samsung) is supposed to agree to license terms with applicants (Apple), but the two sides have not yet come to terms.
Pirate Party's Pirate Bay Proxy Nixed
A proxy service in the United Kingdom that provided access to The Pirate Bay was shut down after legal threats.
The BBC reports that the proxy was offered by the Pirate Party UK, a small political party whose platform calls for unencumbered Internet access. The proxy came under fire because The Pirate Bay has been blocked by all major UK Internet service providers.
The legal threats levied by the British Phonographic Industry, Britain's music industry body.
The Pirate Party is not affiliated with The Pirate Bay.
The Pirate Party UK's website experienced a huge spike in traffic after it launched the proxy. The Web monitoring service Alexa reported that the site went from being ranked 1,943 in the UK to No. 147 — ahead of Netflix, Huffington Post and the National Health Service website.
The Pirate Party in the Netherlands had also offered a proxy to The Pirate Bay. Like its British counterpart, that proxy didn't last.