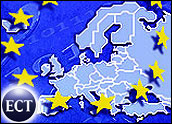 There could be a new player in the mobile phone search space to challenge the dominance of Google and Yahoo, according to a report from the Britain's Telegraph newspaper. The paper reported Sunday that top names in Europe's telecommunications industry will meet next week during the 3GSM World Congress for "secret, high-level" talks.
Deutsche Telekom, France Telecom, Hutchinson Whampoa, Telecom Italia, Telefonica, Vodafone and United States' Cingular, are a few of the companies said to be forming a consortium to create a mobile phone search engine.
"There is a big play in mobile search that we need to be a part of, and we are exploring those options at a very high level," an executive at one of the UK companies involved in the talks told the Telegraph.
Info Craze
Some 29 percent of Europeans in France, Germany, Italy, Spain and the UK use their mobile phones to access the Internet, compared to 19 percent in the U.S., according to a comScore Networks survey released in October.
Among that group, major online portals Google, Yahoo and MSN were visited most often by mobile users. However, the report also found that mobile Web sites created by Vodafone, o2 and T-mobile were also destination spots for mobile Web surfers in Europe.
"In Europe, the mobile Internet appears to mirror the dynamics of the fixed Internet," Bob Ivins, managing director of comScore Europe, said. "Google remains strong but the other U.S.-based portals achieve much lower penetration, facing stiff competition from local competitors — in this case, the mobile providers — who have the structural advantage of a degree of control over the access point and interface from the mobile phone."
That data is supported by a recently released report from the Mobile Data Association in Britain. The group found that 40.7 million cell phone owners had used their phones to download or browse the mobile Internet during the third quarter of 2006.
As features such as mobile e-mail and the mobile Web become easier to use, their popularity has grown. British users are not only using their mobile handsets for the usual gathering of ring tones and game downloads. The MDA's research indicated that Google was the No. 1 site accessed via mobile phones in Great Britain.
In the UK alone, Nielsen//NetRatings research determined that wireless application protocol (WAP)-enabled cell phones are only second to the PC, with 57 percent of Britons able to access the Web via their mobile handset.
"There is a lot of fear among mobile companies of being tied to a Google, Yahoo and No. 3 Microsoft," Bill Hughes, principal analyst at In-Stat, told TechNewsWorld.
Search Party
In some ways, search utilities are an extension of an essential service that carriers have always provided — 411 service, explained Charles Golvin, principal analyst at Forrester Research. The US$1.50 or so that they charge for each 411 call brings in a significant amount of revenue.
"So, in the carrier's mind, it's not a radical departure," Golvin told TechNewsWorld. "They see a lot of revenue opportunity [from 411 services], which is what I consider the strongest motivation."
However, as use of the mobile Internet accelerates, mobile companies are very concerned about Internet portals dominating their customers' experiences. Carriers fear that they will simply become the provider of connectivity while the portals provide the value on top of the network, Golvin continued.
If that speculation proves true, in order for the venture to be successful, Europe's telecommunications carriers would have to band together in order to provide a large enough audience to attract advertisers.
"Since these are issues that all carriers face, it make sense for them to ally, to provide a common solution that aggregates their considerable customer base — after all, what advertisers want is reach," Golvin stated.
Risky Search
Any move by a consortium of European telecoms to create their own search engine is ill-advised, In-Stat's Hughes said, because any initiative they start separately will not have the same inertia that Google, Yahoo and Microsoft would have competing together.
While it is not too late in the game for a new player in the mobile search engine to emerge, Hughes said, it would take an enormous investment to keep up with what the top three already offer.
Such a venture would be risky for the European mobile carriers, Declan Lonergan, director of consumer research at Yankee Group, told TechNewsWorld. "[They] should think very carefully before they commit to developing a new mobile search engine that effectively competes with the established leaders in online search capabilities," he added.
Consumer trust is critical, and recognized brands such as Google have an already established high level of consumer trust, Lonergran said. Mobile operators have learned painful lessons in the past from failed attempts trying to implement operator-controlled, walled garden-style mobile Internet services.
"I believe the mobile players should continue to explore ways to collaborate (as many are already doing) with the established online search brands rather than trying to establish a service that will compete with these in some instances," he noted.
According to Hughes, mobile carriers could avoid all the effort of creating a new search engine by simply negotiating for better advertising revenue.
This could be just a negotiating ploy. "They would be trying to remake the wheel — and it would be a stone wheel, when everyone else is involved in extensive polymer research to go into rubber tires," he concluded.