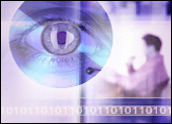 Employees who regularly use company computers to surf the Web, sign on to business accounts for personal e-mail, make calls from company phones or use the corporate car to run errands run the risk of losing their jobs, according to a new survey released by The ePolicy Institute and the American Management Association (AMA).
More than 58 percent of the 304 companies surveyed said they'd fired workers for misusing company-provided e-mail accounts or improper use of the Internet on a company computer. A much smaller portion, 6 percent, said they had terminated an employee for inappropriate use of a company phone or voice mail.
"The reason employers are concerned about workplace e-mail Internet activity is legal liability," said Nancy Flynn, executive director, The ePolicy Institute. "We have found that that's the No. 1 concern of employers since we started this survey with the AMA back in 2001."
Zero Tolerance
In 2006, the federal court system announced amended rules for federal civil procedures. The amendments established that in workplace-related federal lawsuits, all of a company's electronically stored information (ESI) was subject to discovery, Flynn told TechNewsWorld.
"In other words, if a company gets hit with a workplace lawsuit, all of your e-mail, instant messages, history of Web surfing, blog posts, text messages and any other electronically stored information can be subpoenaed and used as evidence for or against a company in the litigation," she explained.
"E-mail creates the electronic equivalent of DNA evidence. E-mail is going to either make your case or break your case," Flynn added.
Data security and employee productivity are also motivating concerns for employers to monitor Web and e-mail usage and content, she acknowledged.
"We found that this year, among the 28 percent who fired employees for e-mail violations, that 26 percent were concerned about too much use of the company system. And 22 percent cited a breach of confidentiality rules. Of the 30 percent who fired for Internet abuse, 34 percent said excessive use of the company system was a problem."
Nearly half — 43 percent — of companies said they monitor e-mail. Seventy-three percent of that group use a monitoring application or other tool to automatically keep track of employee e-mails. Another 40 percent assign the task to an individual in the company who manually reads and reviews e-mail.
Watch Where You Surf
Most employers, however, are principally concerned with inappropriate use of the Internet. Some 66 percent of companies said they monitor Internet connections. Of that number, 65 percent use software to block access to unsuitable Web sites. That represents a 27 percent increase since a similar survey in 2001.
Viewing pornography on company time is the No. 1 reason companies block access, with 96 percent of respondents voicing concern about visits to sites the researchers described as "sexual, romantic or pornographic." Sixty-one percent said gaming sites were a problem, while 50 percent and 40 percent thought social networks and entertainment sites, respectively, were a major concern.
Computer monitoring is another precaution taken by employers — 45 percent acknowledged tracking content, keystrokes and time spent at the keyboard. A little less than half, 43 percent, store and review computer files, while 12 percent monitor blogs to keep abreast of what is being written about the company. Meanwhile, 10 percent said they monitored social networking sites.
Don't Tell Me About the First Amendment
Arguing against the user of surveillance systems by employers on the grounds of the First Amendment or an expectation of privacy might not get one very far. Private employers in the U.S. hold legal advantages — even when it comes to personal, Web-based e-mail accounts or instant messaging tools.
Federal law gives companies the right to monitor all activity that takes place on a company's computer system. The Electronic Communications Privacy Act states that the computer system is the property of the company and the employee has no reasonable expectation of privacy.
That includes a take-home work computer as well as telecommuters who access a company's network from their personal home computer.
"We recommend that employers ban the use of personal e-mails and IM tools. You don't want your employees using Gmail or Hotmail or AOL AIM using Web-based personal accounts because, among other things, there is too great a risk that the message could be intercepted by a malicious party. If you're a regulated company subject to HIPAA (Health Insurance Portability and Accountability Act) in the healthcare arena or Gramm-Leach-Bliley in the financial community you are required to keep your e-mail transmissions safe and secure," Flynn pointed out.
"It doesn't matter whether you're using a laptop, a desktop, a BlackBerry or some other kind of smartphone. It doesn't matter if you're working at home or at the office — your company's policies and rules apply, and an employee has to adhere to those rules," Flynn pointed out.
Watch What You Say
Thousands of employees, according to Flynn, have been fired for blogging at home on their own time, on their own computers. Despite claims of First Amendment violations or privacy invasions, basically every state's employment laws are based on "at will" employment, meaning a business owner can fire a worker at any time or any reason.
Companies are also well within their rights to establish a zero-tolerance policy toward personal communications at work, said Hoyt N. Wheeler, a professor of business management at the University of South Carolina.
"It's their equipment, they're paying for it. It's a reasonable thing to do. The problem comes in the policing of it. That can be pretty intrusive, but the employer has a right to control that," he explained.
Only two states require employers to inform employees about their electronic surveillance and monitoring polices — Delaware and Connecticut. Even so, 83 percent of companies said they tell their workers about their policies.
However, Wheeler said, the effect of these practices may have a stifling affect on employee morale.
"It could very well. There are some very fine lines here. There ought to be a fundamental employee right to privacy. We have a right to privacy against the government but not against employers," he told TechNewsWorld.