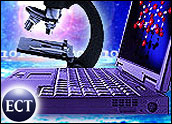 Scientists at IBM Research, along with researchers the Center for Probing the Nanoscale at Stanford University, say they have developed and demonstrated magnetic resonance imaging (MRI) technology with volume resolution 100 million times finer than conventional MRI.
Results of the demonstration were published in the Proceedings of the National Academy of Sciences (PNAS). The development represents a significant step forward in tools for molecular biology and nanotechnology by providing the ability to study complex 3-D structures at the nanoscale, according to IBM.
Extending MRI to such fine resolution enabled scientists to create a microscope that, once fully developed, may be powerful enough to decipher the structure and interactions of proteins and pave the way for new advances in personalized healthcare and targeted medicines.
"If we achieve our ultimate goal of atomic resolution, it could have a tremendous impact on medicine and drug design. We certainly hope that if this happens, the technology will be commercialized in some way. Right now, it is too early to even guess about how the commercialization would happen or what the time frame for practical applications would be," Dan Rugar, manager of Nanoscale Studies at IBM's Almaden Research Center in San Jose, Calif., told TechNewsWorld.
The technology will also impact the study of materials — from proteins to integrated circuits — for which a detailed understanding of atomic structure is essential, IBM said.
Better Than 20/20
A technique dubbed "magnetic resonance force microscopy" (MRFM), which relies on detecting ultrasmall magnetic forces, made the advancement possible. The boost in resolution is not the only benefit offered by this new technology. It is also chemically specific, can "see" below surfaces and is non-destructive to sensitive biological materials, unlike electron microscopy.
Scientists at IBM have also made advances in MRFM, not only boosting the sensitivity of the technology but also combining it with an advanced 3-D image reconstruction techniques. This enabled them to use the MRI on nanometer-scale biological objects for the first time.
The new device does not function like a conventional MRI scanner using gradient and imaging coils. Rather, the researchers use MRFM to detect tiny magnetic forces as the sample sits on a microscopic cantilever, a tiny sliver of silicon shaped like a diving board. Laser interferometry tracks the motion of the cantilever, which vibrates slightly as magnetic spins in the hydrogen atoms of the sample interact with a nearby nanoscopic magnetic tip. The tip is scanned in three dimensions and the cantilever vibrations are analyzed to create a 3-D image, IBM explained.
Not Used Like a Conventional MRI
However, while the technology is an advance in magnetic resonance imaging, its applications are not necessarily intended for a hospital setting.
"The MRFM is not a diagnostic instrument. It is not designed for a hospital setting or to diagnose patients in the way conventional MRI is used. MRFM relies on detecting ultrasmall magnetic forces; our hope is that nanoMRI will eventually allow us to directly image the internal structure of individual protein molecules and molecular complexes, which is key to understanding biological function. This technology signals a significant step forward in tools for molecular biology and nanotechnology by offering the ability to study complex 3-D structures at the nanoscale," Rugar stated.