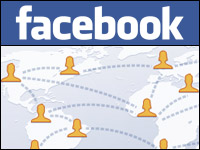 McDonald's has signed on as an early user of Facebook's new location feature, which reportedly could launch as early as this month.
The new feature will give users the ability to include their location within a status update, but it will also be offered as a tool for marketers, AdAge reported Thursday. Using the new feature, the McDonald's app will reportedly let users see featured products targeted to their location.
McDonald's isn't paying Facebook directly for the app, AdAge said, citing "executives with knowledge." Rather, it's reportedly part of a bigger media buy.
Sneak Peak on Facebook
The fast food chain has apparently already begun to incorporate local features into its Facebook page, as GigaOm pointed out.
Facebook, however, isn't sharing any details.
"Facebook is working on a product that enables people to share their location," Cyndi Schott, a spokesperson for the social network, told TechNewsWorld. "We don't have anything else to share at this time."
McDonald's officials did not respond by press time to TechNewsWorld's requests for comment.
'Facebook Might Be Too Old'
Facebook's entry into the location arena could shake up the balance of power currently held by smaller companies like Foursquare, MyTown, Loopt and Gowalla.
"Foursquare has been phenomenally successful because it adds another level of 'What are you doing now?' — to steal the phrase from Twitter," noted Lon Safko, social media entrepreneur, consultant and coauthor of The Social Media Bible. "If you are urban or hang out in urban areas, or you just want to meet up, these apps are an awesome way to keep connecting, geographically."
Indeed, "location sharing with friends and contacts will be big, and if Facebook does it right, they might simply crush upstarts like Foursquare," Karsten Weide, research vice president for digital media and entertainment at IDC, told TechNewsWorld. "But then, ironically, Facebook might be too old and big to implement location sharing in a convincing way. So there is a chance for other players."
'I Don't Want My Wife to Know'
There's certainly no doubt as to the potential benefits for corporate users like McDonald's; whether consumers will be as excited remains to be seen, particularly given the technology's privacy implications.
"The upside: My friends and family know where I am and I know where they are — we are getting closer thanks to technology," Weide pointed out. "The downside: Now your wife also knows when you meet your mistress. Oops, guess you forgot to switch off location sharing!"
There is a "big brother aspect to McDonald's watching you and telling your friends," Safko told TechNewsWorld. "I know for sure that I don't want my wife to know that I've snuck over to my local Mickey D's for a small fries."
'The User Has Ultimate Control'
On the other hand, "it is still an app," Safko pointed out. "The user has ultimate control over how closely they are being followed. If you don't want people to know where you are right now, turn it off. If you are feeling social and want to connect with friends, turn it on.
"I like that if I am in or nearby a company that I might do business with, they give me something just for being there and being in the game," he added. "If I was heading to McDonald's for lunch and saw that if I show them my phone I get a free cone, sign me up."
That, of course, "is providing that I control the messages," Safko stressed. "Remember, an unsolicited commercial message is the legal definition of spam. If I want a quarter pounder, I don't want spam."
'Better Enjoyed in Secrecy'
Younger audiences will be most likely to embrace location sharing in a big way, Weide predicted.
"Being associated with brands can be cool," he noted. "Whether a lot of people think it is cool to be associated with McDonald's is a different question, but I am sure there will be thousands who at least think this is kinda funny: 'Heheh! Check it out! It's my fifth Big Mac of the week!'
"I personally believe this is more of a guilty pleasure better enjoyed in secrecy," Weide added.
'The US Is Way Behind'
Of course, Japan and European countries "have been doing geo-targeted advertising for years," Safko pointed out. "The U.S. is way behind in this area of social media."
As a result, "McDonald's will make a great case study for our tolerance of this type of advertising," he concluded. "If we don't like it, McDonald's will get flamed … or is that the other guy?"