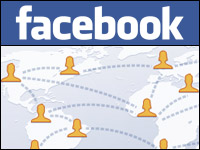 Some five months after Facebook began testing a series of changes to its privacy controls, CEO Mark Zuckerberg on Tuesday announced that the popular social network has now decided to make them official for its 350 million users worldwide.
The company will soon eliminate regional networks as a way of connecting users, and it will also add settings that allow users to control who sees each individual piece of content they create or upload.
In addition, it will combine some settings on the privacy settings page in the hopes of making it simpler to use.
In the next few weeks users will be asked to review and update their privacy settings accordingly, Zuckerberg said.
'No Longer the Best Way'
Facebook's regional networks are essentially online communities for a school, company or geographical region.
"This worked well when Facebook was mostly used by students, since it made sense that a student might want to share content with their fellow students," Zuckerberg explained in an open letter on the Facebook blog.
"However, as Facebook has grown, some of these regional networks now have millions of members and we've concluded that this is no longer the best way for you to control your privacy," he added.
Almost 50 percent of all Facebook users are members of regional networks, Zuckerberg noted.
Instead, Facebook will implement a simpler model for privacy control whereby users can set content to be available to only their friends, friends of their friends, or everyone.
Publisher Privacy
Facebook's publisher privacy control feature, meanwhile, allows users to decide who can see the content they publish on a per-post basis.
For example, some posts can be made available to everyone, while others may be restricted to friends and family.
Finally, in the interests of simplicity, Facebook is combining many of its privacy settings and putting them all on the same page, including standardizing the options it provides for each setting so the choices are always the same.
'Too Complicated'
"When we add new features to Facebook, we usually include a corresponding privacy setting," Chris Kelly, Facebook's chief privacy officer, wrote in an explanation back in July.
"While this has helped give some people more individualized controls over particular features, the compounding effect of more and more settings has made controlling privacy on Facebook too complicated," he added.
Indeed, simplicity is critical when it comes to protecting privacy, Paul Stephens, director of policy advocacy with the Privacy Rights Clearinghouse, told TechNewsWorld.
'They Might as Well Not Be There'
"We would support starting at a default of the highest privacy levels," Stephens said.
Many people don't bother to read the details online, he noted, and "sign up blindly," not realizing the extent to which their personal information may be revealed.
The process should be "as clear and transparent as possible," Stephens added. "The fact of the matter is that the average user is not going to go through" a complicated process. "You can provide all the potential protections in the world, but if you don't make them the default and simple to use, they might as well not be there."
High-Level Changes
The simplification of the process "should be done at a high level, not a low level," Marc Rotenberg, executive director of the Electronic Privacy Information Center (EPIC), told TechNewsWorld.
Specifically, "we think the key issue is that they shouldn't opt anyone into any disclosure that a user had previously opted out of," he explained.
EPIC will be examining the new changes for that possibility, Rotenberg added.
'Read Through All Your Options'
Many of the new changes were requested by users, Zuckerberg said.
"We've worked hard to build controls that we think will be better for you, but we also understand that everyone's needs are different," he noted. "We'll suggest settings for you based on your current level of privacy, but the best way for you to find the right settings is to read through all your options and customize them for yourself. I encourage you to do this and consider who you're sharing with online."
Whether users will welcome the changes or the resulting attention they'll require, however, is far from clear.
'Quit Complicating Things'
More than 21,000 comments had greeted Zuckerberg's announcement by early Wednesday afternoon, many of them expressing unhappiness with the news.
"You're only making things more complicated and causing more server problems," wrote James Allen McCune, for example. "Everyone liked the ORIGINAL lay out best.
"You're driving people away from facebook and over to twitter and Tumblr of all places," McCune added. "Quit trying to be twitter, and quit complicating things."
'Users Will Be Relieved'
On the other hand, "any time Facebook makes a change, users are angry," privacy lawyer Parry Aftab told TechNewsWorld.
In this case, however, Facebook "really had no choice," Aftab opined.
People have too many parts of their lives for a one-size-fits-all approach to privacy to make sense, she added.
The changes "will be disruptive in the beginning, but my guess is that a couple of months down the road, users will all be relieved," she predicted. "This allows us to manage the different parts of our lives better, because Facebook is so much a part of our lives."