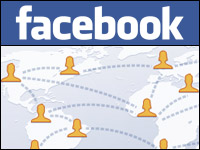 Facebook is not — repeat NOT — developing a mobile phone, a company representative told TechNewsWorld Wednesday, trying to waylay the latest rumor that the social media giant might be looking to add a new identity — "Phonebook," perhaps? — to its mega-popular worldwide brand.
The latest gossip — that HTC will launch two such phones at the Mobile World Congress in Barcelona — was reported by City A.M. Wednesday.
Google's Android operating system might display Facebook messages and home-screen news feeds, the report claimed. Friends and Family plans, so familiar to AT&T users, might be called "Facebook Friends and Family" plans, with users emailing and calling one another with information stored on their Facebook pages.
But details remain rumors, and "might" is indeed the operative word. As proprietor of an enormous store that combines social media, online shopping, and apps galore, Appitalism Simon Buckingham watches such developments closely — and like Facebook officials, refuses to believe.
"I'd be willing to go on the record and say that I don't think a Facebook phone will materialize," Buckingham told TechNewsWorld. "The whole idea just doesn't pass the smell test."
Hardly Hardware
"Before we get into this, I want to apologize for the miscommunication," was how Facebook founder Mark Zuckerberg started off a September interview with TechCrunch about some early Facebook phone rumors.
The interview quickly started sounding like former President Bill Clinton's famous "what the definition of 'is' is" discussion. "When people say 'building a phone' they actually can mean very different things," Zuckerberg said. "Internally, the way we talk about our strategy, it's like the opposite of that. Our whole strategy is not to build any specific device or integration or anything like that. Because we're not trying to compete with Apple or the Droid or any other hardware manufacturer for that matter."
Exactly, says Simon Buckingham. "I don't think Facebook is hardware driven," he explained, citing several recent instances of Facebook's software-specific approach.
"We're trying to build a social layer for everything," Zuckerberg told TechCrunch, later diving into a conversation about the company's grand plans for HTML5, which is hardly hardware.
"Facebook has long been talking about how they're planning to use HTML5 to extend their brand," Buckingham explained. "It's another part of their general software approach."
Triumphant Triangle
Today's Facebook phone tales closely follow yesterday's news that Google is launching a mobile version of Cloud Print. If the rumors were true, the stories' close proximity might suggest a driving dynamic behind Facebook's desire for a phone.
Even if the rumors are not true, Facebook-Google-Apple may still be evolving into an oligopoly resembling the movie studios and auto makers of yore: a trilateral group of giants whose business decisions profoundly affect one another.
Though Cloud Print's value "is inconclusive at this point," Radware virtualization solutions director Kelly Hair told TechNewsWorld, Google is pressing ahead anyway because the search giant "has recognized the value of providing services to mobile phone customers."
Likewise, the value of a Facebook phone is inconclusive, but — if the rumors were true — the company might be pressing ahead anyway for a simple reason economists know well: Members of an oligopoly cannot afford not to follow or even imitate each other. If Google has recognized the value of mobile, so then must Facebook.
"They're 'frenemies,' if you will," Appitalism's Buckingham said. "People are always looking at Apple, Google, and now Facebook. Apple nailing the whole hardware space has got to have generated some serious envy. Their respective decisions are also a function of the employee pool. Sure, they're all getting employees from Yahoo — everybody's getting employees from Yahoo — but they're also getting employees from each other."
And those employees share ideas.
Zuck-worthy Denial
Radware's Hair said he shares links from his Android phone to Facebook, and that if true, a Facebook phone "will further cement the Facebook experience."
Nonetheless, "Facebook has already developed excellent integration apps for smartphones, including the iPhone and Android platforms," Hair explained.
Indeed it has, Appitalism's Buckingham said, and all with one goal in mind. "A Facebook phone doesn't help them reach that goal — growing and monetizing their membership base," he said.
Facebook officials seem to agree, with comments that make the argument moot — for now.
"Facebook is not building a mobile phone," Facebook spokesperson Stephen Naventi told TechNewsWorld. "As we've long said, our mobile strategy is to enable people to not only have access, but also a great Facebook experience from any mobile phone they choose. We're working across the entire mobile industry with operators, hardware manufactures, and app developers to bring Facebook to mobile phones in a variety of unique and exciting ways. Some of these include deep integrations of Facebook within the device, but are not 'a Facebook phone' as sometimes referred to by commenters."
It's a denial worthy of Zuck himself.