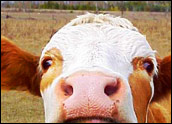 If corporate managers have Sarbanes-Oxley compliance to blame for late nights and lost sleep, those in the livestock and poultry industries have plenty of compliance worries of their own, triggered by NAIS, which stands for the National Animal Identification System.
NAIS is a multi-year, phased-in project that the U.S. Department of Agriculture is developing. Still in its early stages, NAIS will be a mandatory program by 2009. As a disease-sleuthing animal tracking system, it will seek to identify all agricultural animals to determine where they've been — including whether they've been with animals other than herdmates — from premises of origin. Think of words like Mad Cow disease, Avian flu and the SARS scare, and you get the picture. The main point is that the government wants to protect national herds.
NAIS was unveiled in May last year; the program is still under construction by the USDA and state organizations. At the time of this writing, there are some pilot projects but compliance is proposed as mandatory by 2009. All agriculture-industry stakeholders involved in the breeding and production of cattle, goats, sheep, swine, poultry, deer, elk and other breeds will be affected by NAIS regulations; no less than 27 species of food animals are to be tracked.
Preventing Infection
The USDA is contemplating a scenario in which all premises and animals that have had direct contact with a diseased animal, whether foreign or domestic, could be identified within 48 hours. The 48-hour trace-back speed is significant to contain the spread of infection. For relevant IT vendors, the traceback requirement is also significant, as it provides an opportunity for IT companies specializing in Web-linked data-management and data integration. These vendors are interested in providing solutions for cattle, poultry and other animal operations. Animal ranchers are savvy enough to know what makes sense for their businesses, and they will want to be ready for animal-ID regulations before it's too late.
It would be difficult to argue against the view that without easy, Web-based data management systems, the NAIS edict would be a data quagmire waiting to happen. Without affordable, easy-to-use information technologies, a paper-based system coping with documents from one site to another would be a time-consuming, painstaking process that could not meet the 48-hour trace-back deadlines. In other words, it would not work.
Now, with all the advances in RFID and database systems that can be run via the Web, the 48-hour trace-back goal is no longer wishful thinking.
"This is where this puzzle takes an information technology spin," said Raymond Majewski, IT manager for Global Animal Management (GAM).
Solutions can be all the richer when linked to business-intelligence capabilities. If every livestock rancher's data pertaining to animal movements were placed in interoperable repositories, for example, business intelligence tools could determine which other animals or groups of animals might have been in contact with a suspect animal and where these cohorts reside, Majewski said.
A number of technology companies with special expertise in data warehousing and data management systems — such as Informatica teamed with Global Animal Management (GAM), a division of Schering-Plough — are prepared to distinguish themselves as ready, willing and able to put together the IT jigsawpuzzle of animal-ID and tracking technologies as NAIS implementations grow.
Schering-Plough's GAM: Upload, Download Portal
GAM has been working on solutions designed for users to upload and enter their information on animal movements both for compliance and to manage value-added data. In rounding out its offering of an information system for animal tracking, GAM has teamed with Informatica to take advantage of the latter's data-integration software tools.
Informatica's data-transformation solution is the "marquee platform" on the market, according to Majewski. Informatica emphasizes an open architecture in its data-integration platform, as many of its users in the medical and life-science industries work across a variety of mainframes and databases, from Oracle to Sybase and Teradata.
ScoringAg as Databank Contender
Another technology company is stepping up to the plate for NAIS compliance, ScoringAg. The ScoringAg team seeks to help customers manage their data better "from field to fork." ScoringAg is a division of ScoringSystem in Sarasota, Florida. The company promotes its system as able to deliver needed information in seconds, not days, via its Web-based databank.
The databank uses secure Internet interconnections and servers to provide real-time trace-up and trace-back throughout an animal's life-cycle. There are system checkpoints that account for tagged livestock as they move from one place to another.
Make IT Cowboy-Friendly
As vendors promote their wares, one can expect to see those with RFID-enabled solutions attracting users' interests, and for good reason. RF-enabled tagging and readers make good sense in cattle and other food-animal environments. The more things animal-agriculture users can do with RF-based technologies, the more easily these users can adapt.
Animals are fitted with radio-frequency identification tags. With the support of RF readers, information on their movements gets linked to computers as they go through the production system.
Tom Hogan,VeriLogik president and CEO, is going whole hog — to borrow the expression — in using RF and wireless technologies with his company.
His mission, since the company's founding in 2000, has been to tie the task of data collection as logically as possible to the cattleman's life — where there is hardly time, logistical space or budget to spare on laptops, incompatibility issues, and how-to manuals. The data-capture tools are designed to become a seamless part of animal-husbandry environments. "No additional steps, no additional labor, no PhD in computer science [are needed]," he remarked.
"We turn on the normal animal-husbandry tools" for the solution, he said, "all the way from the RF chip [to] data-collection tools such as tag applicators and syringes, and the data-storage unit that transfers the data to the database via a common phone line."
The Oracle database server is in San Antonio, Texas, he said, and currently has over 300,000 records. The records of each individual are password-protected.
Hogan is proud of his niche of having walked the walk and talked the talk. Hogan said he has been a cowman practically all of his life. He began managing his family's ranch at age twelve following his father's death, and subsequently went on to own, manage, and consult for outfits with 250 to 50,000 head of cows in 26 states and five countries overseas. "We are the most cowboy-friendly."
It is not practical to think of these users as having or wanting to have much IT support, Hogan said. "I have attempted to use laptops, PC, notepad and a No. 2 pencil by the squeeze chute, and the effort is David-like because of the time constraints, the additional labor and the fact that cowboys are not computer-techs and never will be," he said.
Hogan also pointed out some other facts of life. "When I kept track of the individual records on 13,000 cows, I had one secretary that went around to every cattle processing [facility] and wrote down every detail, then came back to the office and recorded each into production software. With 13,000 cows and the economic difference that individual records made in the selection process, I could afford that. With 250 cows or less — and 90 percent of cow-calf operations in the U.S. have 100 cows or less — a designated record-keeper is not reality."
More Lessons to Learn
Whatever the data-management choices these users will make, IT industry observers will find plenty to pique their interest in 2006 concerning how information management may be leveraged in environments other than traditional corporate and Wall-Street settings.
"Remember, this may be the last uncharted supply chain, GAM's Majewski commented. "These are farmers who have been conducting business in the same fashion from generation to generation. This is a big step to start identifying, then tracking, either individual or groups of animals by a unique identifier."
The GAM/Informatica collaboration is interesting to watch as players on the vendor and user side get involved with information technology to power disease management, whether that means animal-born pandemics or the management of chronic disease in humans.
What Disease Management means for the health-care industry, however, is quite different from what the term represents to those in animal agriculture.
In human terms, health-care organizations and other constituencies tend to refer to Disease Management in the context of curbing health-care costs through better processes and an improved flow of information. They seek to harness IT so that patients' chronic diseases and conditions such as diabetes can be tracked and managed. The official definition of Disease Management in this context is "a system of coordinated health-care interventions and communications for publications with conditions in which patient self care efforts are significant," according to the Disease Management Association of America.
A disease-management protocol includes, for example, a routine reporting/feedback loop that may include communication with patient, physician, health plan and ancillary providers, and practice profiling.
Yet, therein may lie the similarity, noted Vince Kuraitis, principal of Better Health Technologies . In the longer view, he explained, whether the IT vendor is applying products and services aimed at putting out the flames of a pandemic or addressing the management of diabetics, it's the same fundamental technology that can take the two efforts to the next level — namely, data-integration software.
Trying to get a single, unified view of data coming from different sources and formats is one of the hottest pursuits in the medical arena.
There are a number of clear indicators of data-integration efforts by health-plan organizations to draw from: "The health plan's goal is to get as complete a picture as possible about the health/demographic/psychographic status of their customers," Kuraitis said. "In the past, health plans had primarily medical-claims data as the primary source of information about patients. Claims data is an imperfect proxy."
Informatica, for one, sees health care and life sciences markets as large growth-potential areas.
"The pace at which the medical services and research and discovery fields are evolving requires the integration of vast amounts of data," said Informatica's Arvind Parthasarathi, director of solutions. His company, he said, serves nine of 11 of the top healthcare providers, and the 12 largest life-sciences organizations.
IT support in the medical arena is being solicited to access a single-view of the patient that takes disparate data from many departments. The goal is to ensure there are no costly errors if one hand, so to speak, does not know what the other is doing. "By creating a single view of the patient," Parthasarathi added, "medical organizations can more effectively manage their patient relationships." Now, Informatica has taken on the GAM experience, which, he said, is moving toward a "single view of the cow."
Another case in point, Parthasarathi said, is the Hong Kong Hospital Authority. The organization has a clinical data repository that consolidates data from various systems to help manage information during SARS outbreaks. This system collected and merged data to provide the Hong Kong Department of Health with updates every 15 minutes, which was critical in managing the last epidemic. Today, the database holds records on 300 million laboratory results and other data on all reported SARS cases in Hong Kong.
Information Age: Next Chapter
Meanwhile, back on the nation's farms, use of data-tracking and disease management, beyond meeting NAIS compliance, could potentially lead to business gains. Life at the ranch can take on new efficiencies if systems are in place allowing all interested parties to harness information technology, including business-intelligence software tools, to collect, access and share information across farms and states.
In 2006, Hogan is certain that significant pages are being turned in an industry that has resisted the IT transformation that have been overtaking other industries for some time.
"The food-animal industry will go through more change in the next decade than it has in the past century," he asserted. "The average age of the cattleman in the U.S. is over 60 years of age. The information age is upon us. We will see tremendous change because of attrition and because of the economics of raising cattle."