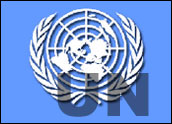 The UN-sponsored World Conference on International Telecommunications, which will feature government regulators from 193 countries, opened Monday, prompting fears that the meeting could ultimately damage Internet freedom.
According to the BBC, the UN's International Telecommunications Union is trying to allay concerns that the conference will result in restrictions to free speech and the flow of information. Google, for its part, has warned that the event is a threat to the free Internet, invoking the adage, "If it ain't broke, don't fix it."
The ITU, founded in 1865, was originally designed to focus on telegrams, but now oversees other types of communications. It has, for instance, helped develop standards for international telephone networks and allocates communications satellite orbits.
The current conference, which could last up to two weeks, marks the first time since 1988 that the ITU "has overseen a major overhaul of telecommunications regulations."
The U.S. has warned that some of the proposals put forth are invasive and violate democratic ideals. To wit, Russia and some Arab nations are pushing for permission to do things such as restrict content or impose universal identification for Web users.
Yahoo Faces Hefty Fine in Mexico
Yahoo faces a US$2.7 billion non-final judgment in a Mexican lawsuit over a Yellow Pages listing service.
According to Bloomberg, the litigation was brought by Worldwide Directories SA and Ideas Interactivas SA. They allege a breach of contract, breach of profits and lost profits.
The $2.7 billion verdict, however, might not stand. The figure likely represents more money than Mexico's entire Internet advertising industry has generated and probably is not a credible amount, according to an expert cited by Bloomberg.
Yahoo's market value is roughly $22 billion.
Australia Takes Tough Stand on Taxes
Australia will crack down on practices — legal though they may be — used by multinational companies to avoid paying taxes.
According to Reuters, Australia's proposals include the preventing profit shifting and eanalyzing strategies to reduce tax bills that are employed by multinational companies. They harken to similar decrees from Britain and Germany..
On Nov. 22, Australia's assistant treasurer, David Bradbury, singled out Google, detailing the company's strategies for limiting corporate taxes.
He dubbed Google's tax structure a "Double-Irish-Dutch Sandwich," referring to its practice of routing income to Ireland, then sending a royalty to a Dutch subsidiary — which then repays a second Irish holding company controlled in Bermuda. Bermuda, it so happens, has no corporate tax.
According to documents, last year Google's Australian subsidiary paid $815,074 in tax. Media reports, however, have pegged Google's Australian advertising to be worth more than $1 billion. Google asserts it has done nothing illegal.
Australia's proposals could discourage foreign companies from investing there, according to tax specialists cited by Reuters.
Chinese Net Companies Cash In on Low Interest
A trio of dominant Chinese Internet companies are fueling growth with billions of dollars in debt, according to Reuters.
Baidu, which operates China's dominant search engine; Alibaba its top e-commerce outlet, and Tencent Holdings, which operates the wildly popular messaging service QQ, have accumulated a combined $6 billion in debt. The companies plan to use their coffers to bolster their domestic lead, expand their operations abroad and maybe buy foundering rivals.
Reuters attributes the funds to ultra-low interest rates on U.S. government bonds, which has driven down borrowing costs around the globe.
Baidu, for instance, is reported to have raised $1.5 billion — in November alone — largely by selling 10-year bonds at a yield of 3.518 percent. This, Reuters explains, is tantalizingly close to the rate of U.S. Treasury Bonds, which are considered more or less risk-free. In May 2011, Google sold 10-year bonds with a yield of 3.734.