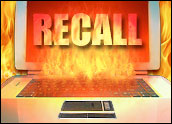 Sony issued a recall Friday for roughly 100,000 notebook batteries. Conducted in partnership with the U.S. Consumer Product and Safety Commission (USCPSC), the recall affects laptop users worldwide. The lithium-ion batteries can overheat and pose a fire and burn hazard to users.
There have been 19 reports of batteries overheating, including 17 instances in which flames or fire were reported, according to the USCPSC. Two consumers received minor burns as a result.
The news follows massive battery recalls that began in 2006 when some 9.6 million Sony laptop batteries had to be returned.
"Batteries have always been a tough area of systems, given power and heat issues," said David Daoud, an IDC analyst, told TechNewsWorld. "Battery makers have not really been under pressure enough to address the quality problem, but we will see growing pressure on them. But in the meanwhile, and until we have proven technology, I don't rule out more incidents to come."
Powering Up
There are about 35,000 of the defective batteries in the U.S. and another 65,000 spread around the world. HP machines account for the greatest number of batteries affected — 32,000 in HP Pavilion, Compaq Presario and HP Compaq systems sold between December 2004 and June 2006.
Another 3,000 of the overheating batteries were sold between April 2005 and October 2005 for Toshiba Satellite and Tecra models, with about 150 more found in Dell Latitude and Inspiron machines that were shipped between November 2004 and November 2005.
The USCPSC advises consumers with the faulty batteries to immediately remove them from their notebook computers and contact the computer manufacturer to determine whether the battery is included in the recall. If so, request a free placement.
Once the battery has been removed, consumers may continue to use their systems by utilizing the AC adapter as the sole power source until the replacement battery arrives.
It's extremely important that consumers pay attention to recalls, said Daoud. "Who wants to be on a flight when a laptop battery catches on fire? That's a very serious risk, and the manufacturers and PC vendors will have to stand behind their products if they want to be competitive," he said.
Batteries Not Included
The defects, according to Sony, are a result of changes made in its factories some four years ago. In the previous round of recalls, Sony lost a reported US$360 million.
Sony is not the only loser when it comes to faulty batteries, however. Consumers lose confidence in computer makers, whether the recall is a result of an in-house problem or with an outside manufacturer, Daoud said.
"We have already seen that with laptops catching on fire and shown on TV. That certainly undermines consumer perception of the companies that are involved, and Sony in particular has been in the news quite a bit. Certainly, in Sony's case, there is an urgent [need] to fix the battery problem once and for all," he explained.
As was the case in 2006, Daoud said it's possible that this recall could expand to include batteries in laptops from other manufacturers.
"Despite efforts to reduce the number of incidents, research and development budgets have been reduced for 2009, given the tough economic environment, and so you will see a little less emphasis on quality and more emphasis on cost reduction. In such environment, you will like see some sub-standard products hit the market. However, longer term, there are very good innovative technologies that are seeking to address the battery problems." When exactly these these technologies will be adopted is a matter of economic recovery and consumer spending, he concluded